Romolo Tavani - stock.adobe.com
Singapore deploys drones to monitor reservoir water quality
Singapore's national water agency PUB is deploying autonomous drones at six reservoirs to monitor water quality and other activities to improve operational efficiency
Singapore's national water agency PUB is deploying autonomous drones at six of the country's reservoirs to monitor water quality and other activities following trials last year.
The Beyond Visual Line of Sight (BVLOS) drones, which can be monitored remotely, are fitted with remote sensing systems and cameras that can analyse water for turbidity and algae concentration – indicators of water quality – as well as look out for signs of aquatic plant overgrowth.
With some of Singapore's reservoirs being used for recreational activities such as kayaking and fishing, the drones can also use video analytics to flag concerns, such as anglers fishing in non-designated areas or overcrowding of vessels.
Developed by ST Engineering, the drones, which use a proprietary drone operating system, will be deployed at MacRitchie and Marina reservoirs this month before being rolled out progressively at Serangoon, Kranji, Lower Seletar and Lower Peirce reservoirs.
The drones are expected to improve the agency's operational efficiency. At present, PUB officers spend 7,200 man-hours each year on daily patrols to look out for excessive growth of aquatic plants and algal blooms. During these patrols, data is also collected on water activities in and along the reservoirs' edge, to ensure they are conducted safely.
By using unmanned drones to carry out monitoring operations, PUB expects to save about 5,000 man-hours, which can be redirected to other works. The drones are capable of surveying large areas of the reservoir, collecting comprehensive data, and triggering alerts when it detects activities such as illegal fishing.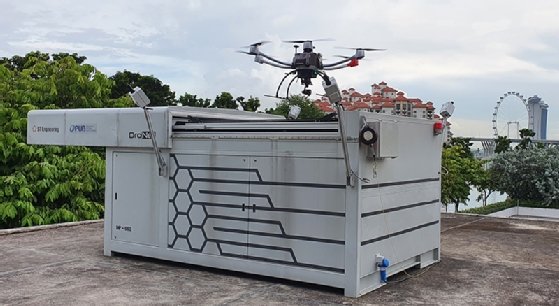 "With 17 reservoirs – which are an important water supply source for Singapore – under our care, it can be a challenge manpower-wise to effectively monitor what goes on at each reservoir and ensure the reservoirs are in optimal condition," said Yeo Keng Soon, director of PUB's catchment and waterways department.
"With the drones, we can channel manpower to more critical works such as the inspection and maintenance of reservoir gates, as well as pump and valve operations. The drones also act as an early warning system that enhances our response time to the myriad issues that our officers grapple with on a daily basis," he added.
"The drones [will allow us to] channel manpower to more critical works such as the inspection and maintenance of reservoir gates, as well as pump and valve operations"

Yeo Keng Soon, PUB
Through an online dashboard, PUB officers will also be able to monitor statistical data and live video feeds from the drones. Near-real-time alerts on illegal water activities will be sent to a dedicated telegram channel that officers can access via their mobile phones. They will then be able to prioritise urgent cases that pose a potential danger to the public and respond in a timely manner.
The drones will fly according to pre-programmed flight paths, staying clear of residential areas. Drone flights at Marina and MacRitchie reservoirs will be conducted four days a week, at regular intervals throughout the day. At the other four reservoirs, the frequency of drone flights will be approximately one or two days a week.
PUB said the cameras installed on the drones would be used solely for PUB's operational needs and that personal data in any form, including facial information, would not be collected.
Read more about robotics in APAC
Read more on Artificial intelligence, automation and robotics