McLaren Group hires new CIO
Chris Hicks will take on the role as CIO for McLaren Group following the departure of Karen McElhatton in December 2020
McLaren has hired Chris Hicks to lead technology transformation for the luxury automotive, motorsport and technology group.
Hicks joined McLaren in January 2020 as director of technology services, and after a year in the position, he will now take on the role as CIO for the company.
The promotion follows former CIO Karen McElhatton's departure in December 2020. McElhatton became CIO in April 2018, but left the job late 2020 to take up the role as chief technology officer of Avon.
In his new role, Hicks will oversee the company's digital transformation across all its businesses and global operations.
He will also lead on the collaboration between the group's technology partners and providers.
Commenting on the new role, Hicks said he is "delighted to become McLaren Group CIO in such an exciting time".
"I'm looking forward to working closely with each of our business strategic technology partners and my dedicated team of experienced technology professionals to deliver the agile, high-performance capabilities expected from us as a leading global brand, " he said.
In his previous role with McLaren, Hicks led several initiatives, including the roll-out of remote working during the Covid-19 coronavirus pandemic. He also led the roll-out of its Darktrace artificial intelligence (AI) cyber capabilities.
The McLaren Group, signed up to use AI-driven cyber security technology from UK cyber security unicorn Darktrace to improve visibility across its IT estate – from its on-board internet of things (IoT) sensors through to its cloud-based backend – in a multi-year partnership last year.
Jonathan Neale, chief operating officer for McLaren, said that technology is at the core of the company's operations and that Hicks's leadership "will allow us to continue to develop and enhance our strategic technology capabilities to support the group's fast-paced business into the future".
"I am confident that working with our best-in-class technology partners, Chris will now reinforce our high-performance culture and ensure that we stay ahead of the game to deliver game-changing products, supercars and experiences," he said.
Read more about CIOs and leadership
Jonathan Neale, chief operating officer for the McLaren racing team, speaks about finding marginal advantages through sensor data analytics.
AWS executive discusses the evolution of cloud technology in government, the need for dynamic procurement, skills, and joining the oligarchy of government tech suppliers.
University of Warwick's chief innovation officer is developing ecosystems of partners from industry, public sector and academia to not only help Warwick students, but also to support them as entrepreneurs and benefit the regional economy.
Content Continues Below

Download this free guide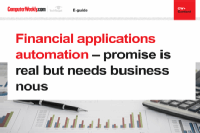 Financial applications automation – promise is real but needs business nous
The automation of the financial software that lies at the heart of any business & accountancy, budget management, general ledger, payroll, and so on & is a prize many organisations are eyeing up, with machine learning and robotic process automation close to mind. Find out everything you need to know by downloading this PDF E-Guide.