Daniel - stock.adobe.com
Government on the hunt for GDS CEO
Whitehall is recruiting for a Government Digital Service CEO who will report to the government chief digital officer, offering £168,000 a year for the role
The government is looking for a CEO to lead the Government Digital Service (GDS), following the imminent departure of interim director general Alison Pritchard.
The role, with a salary of £168,000 a year, is a CEO role, rather than a director general role, but according to the job advert, it is "a director general level post, and the successful candidate will be responsible for creating and implementing a vision and strategy for the delivery of common components, products and platforms that meet departments' diverse needs and citizens' growing expectations".
The government has been without a permanent boss of GDS since the departure of former director general Kevin Cunnington in July 2019.
Pritchard has held the interim role since, but is moving from GDS to the Office for National Statistics (ONS), taking up the role as its deputy national statistician and director general for data capability in October 2020. Current GDS chief operating officer (COO) Fiona Deans will take on the role of interim director general of GDS while the search is ongoing.
The CEO will report to the new government chief digital officer (CDO), which the government launched a hunt for in August 2020.
"We are seeking an inspiring and talented senior leader with a proven track record in digital transformation and service delivery, passionate about technology and about solving some of society's hardest problems through product solutions," the job advert said.
"The CEO will need deep experience of leading teams that develop, deliver and run digital products to scale in complex private or public organisations."
Read more about government digital leadership
The government has begun recruiting for a chief digital officer at permanent secretary level and Government Digital Service director general Alison Pritchard is leaving to join the Office for National Statistics.
At a TechUK Building the Smarter State event, government IT leaders shared their experience of the coronavirus crisis, and their thinking about how future service delivery will aim to be more joined-up for citizens.
John Manzoni explains why the new government digital leader will carry the power and authority of a Whitehall permanent secretary.
In the job candidate pack, Civil Service chief operating officer Alex Chisholm said that the Covid-19 coronavirus pandemic has provided "new impetus and opportunity".
"Every decision relies upon the highest quality data and analysis. Every solution will benefit from technical expertise. Right now, the combined efforts of our Digital Data and Technology (DDaT) profession is integral to the national response, protecting our economy and saving lives," he said.
He added that GDS is central to this effort, and has spent the past decade transforming government through the design and delivery of common platforms and services.
"The CEO will combine technical excellence and proven delivery experience to set the vision and implementation strategy for GDS," he said. "They will consolidate and build upon the service offering to develop GDS's reputation as the world's foremost user-centred government digital product specialist.
"This is a critical role at the very centre of government, reporting to the newly created government CDO. Together they will accelerate the digital transformation and innovation strategies for all of government, making UK digital services the envy of governments and private sector organisations across the world."
The CEO will be responsible for creating and implementing a vision and strategy for GDS's work, oversee its budget and manage strategic risks. The advert closes on 23 October 2020.
Content Continues Below

Download this free guide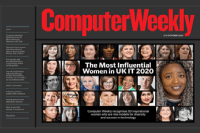 The Most Influential Women in UK Technology 2020
In this week's Computer Weekly, we announce our annual list of the Most Influential Women in UK Technology, and talk to this year's winner, Stemettes CEO and diversity campaigner Anne-Marie Imafidon. Meet our five Rising Stars and the latest entrants to our women in tech Hall of Fame. Read the issue now.