LuckyStep - stock.adobe.com
Agile adoption still in early stages
Less than a quarter of organisations made it past the step of defining their agile approach while more than half are just getting started, study finds
The adoption of agile development in IT organisations worldwide remains in the early stages, a study by low-code platform supplier Outsystems has found.
According to the global study that polled 2,200 IT professionals and senior IT leaders, just one in five (21%) believed that they were more capable than their competitors when it comes to change.
This was reflected in how they rated themselves on the level of adoption of agile methodologies, where fewer than 25% of companies made it past the step of defining their agile approach, and over 50% were just getting started.
Mark Weaser, vice-president for Asia-Pacific at Outsystems, said most companies that tend to adapt better to change are typically cloud-enabled companies. "They've been able to develop their processes in the cloud, so that when there's a major disruption like Covid-19, they would have responded very quickly," he said.
These companies, Weaser said, also tend to have attributes that are not present in laggards on the agile adoption curve. Being more customer-focused, they are also more likely to continually improve and deliver new content and customer experiences, he added.
Another attribute that agile companies have is their ability to muster resources to develop applications quickly. Singapore's DBS Bank, for instance, had been able to develop an application that lets customers submit their documents digitally within a few weeks amid the ongoing pandemic.
But for less agile firms, the software development cycle can last for months. The study found that 36% of respondents took three to six months to develop a mobile app, while 11% said the process could stretch for as long as over a year.
Weaser said companies that are more accustomed to the traditional waterfall development model can no longer take years to deliver value with the current economic climate. To get there, both laggards and leaders need to address a common challenge – the lack of skills.
In the study, both laggards and leaders appeared to be equally affected by skills shortages and talent gaps that hinder rapid adoption of the modern IT architectures needed for agility. However, 21% more of the laggards describe hiring full-stack developers as difficult or very difficult.
"Certainly, there's a shortage of skilled IT people with agile methodology experience, and it's something we're working on in terms of building the Outsystems community," Weaser said. "With education moving online in a big way with Covid-19, we're trying provide online platforms that will train people on agile methodology."
Having the mindset and culture of change is just as important as the success of agile teams hinges on more than just being conversant in agile tools and methodologies.
Noting that Outsystems had struggled in the past to gain traction in the developer community because developers were used to doing things the old way, Weaser said that sort of mindset has started to change in the past five months.
"They've almost been shocked into change because the internal demands to do things quickly are so great," he said. "We're starting to see forced cultural change on companies and people because they realise that they have to do things very fast and find a different way to do their jobs."
Read more about agile and DevOps in APAC
Content Continues Below

Download this free guide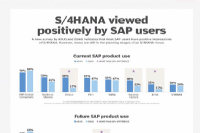 Infographic: S/4HANA viewed positively by SAP Users
SAP has recognised that customers will face challenges and costs when they upgrade to S/4 Hana. It has set out a roadmap to simplify integration, in a bid to lower the transition cost of moving from ECC to the S/4 platform. This infographic shows why most SAP users have positive impressions of SAP S/4Hana.