phonlamaiphoto - stock.adobe.com
Royal Berkshire NHS Trust uses AI to speed up stroke treatment
Trust has deployed an artificial intelligence app to help read and interpret scans so that clinicians can treat stroke patients better and more quickly
Royal Berkshire NHS Foundation Trust is using an artificial intelligence (AI) app to make faster diagnoses in stroke cases and improve care.
The coronavirus outbreak led to the trust deploying the app quickly to enable it to rapidly come up with treatment plans for stroke patients. Although the pandemic has led to fewer patients attending A&E with stroke symptoms, the number receiving thrombectomy surgery has risen by 43%.
The trust's app enables clinicians to view and share patient scans, while the AI element helps to read and interpret the images. So far, the trust has processed more than 150 scans using the app.
Kiruba Nagaratnam, clinical lead for stroke medicine at the Royal Berkshire, said the work has "revolutionised the way we traditionally reviewed scans and made treatment decisions when we are on call".
"It has also bypassed the ED [emergency] physician and radiologist involvement, particularly on weekends," said Nagaratnam. "We have already used this to refer patients for life-changing thrombectomy surgery on weekends with decisions made remotely."
NHS figures show that A&E attendances have fallen during the coronavirus pandemic, which has led to clinical concern that people are putting off seeking help after suffering a stroke.
The NHS has therefore launched a campaign called Help Us Help You to urge the public to take action when they, or someone they know, are showing symptoms of stroke.
Read more about the NHS and technology
NHS chief executive Simon Stevens said the coronavirus will be around for a while, and hospitals will be treating thousands of patients, but at the same time "it is great to see cutting-edge technologies like AI scans being brought in despite the coronavirus pandemic, to help speed up brain imaging and ensure quicker access to life-saving treatment".
Some NHS trusts have also rolled out mechanical thrombectomy surgery, which also uses AI and can prevent long-term disability for patients suffering a stroke.
Health secretary Matt Hancock said the NHS is facing an "unprecedented challenge" during the coronavirus pandemic, but that it is "hugely impressive to see trusts continuing to improve patient care through innovation".
He added: "Bringing the benefits of technology to patients and staff is more important than ever, and we are investing in making the NHS a world leader in saving lives through artificial intelligence."
Content Continues Below

Download this free guide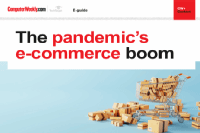 The pandemic's e-commerce boom
The pandemic appears to have solidified e-commerce's ascendancy against the highstreet. Coronavirus has accelerated technology adoption in many sectors, and people have been forced to stay at home, increasing their online shopping habits in a bid to avoid visiting shops.