Daniel - stock.adobe.com
Chancellor Rishi Sunak's 2020 Budget pumps £22bn into R&D
The 2020 Budget pledges to increase research and development funding to £22bn a year, £5bn for broadband roll-out and £900m to ensure UK businesses lead the way in "high-potential technologies", but slashes tax relief for entrepreneurs
In his 2020 Budget, chancellor Rishi Sunak has promised £22bn of yearly funding for research and development (R&D) in a bid to ensure the UK is a leader in innovation.
Announcing the 2020 Budget, Sunak said it "is the fastest and the largest increase in R&D spend ever", and that the government wants to "invest in ideas".
"As a percentage of GDP, it will be the highest in nearly 40 years – higher than the US, China, France and Japan," he said.
The Budget red book said the country's "success in the global economy will be rooted in innovation and cutting-edge technology".
"By driving technological change, the government will create the high-quality, highly paid jobs of the future; the Budget sets out plans to increase public R&D investment to £22 billion per year by 2024-25," the red book said.
"The government will invest that money in the people, ideas and industries that will cement the UK's world-leading position in science, and technologies ranging from nuclear fusion to electric vehicles and life sciences."
The government will also create a new funding agency, whose main focus will be "high-risk, high-reward research".
Read more about government technology
Lisa Barrett, director of digital identity at GDS and head of the troubled Verify programme, is leaving government as funding questions remain ahead of Budget.
Trade body TechUK sets out its view on how to accelerate UK growth through technology in its submission to the March 2020 Budget.
Oliver Dowden spoke about the country's opportunity to "unleash all the innovation and enterprise that emerging technologies can provide".
Private sector will also be expected to increase its R&D investment to meet the government's target of the country as a whole spending 2.4% of GDP on R&D by 2027. To support this, Sunak announced that R&D development expenditure credit, currently at 12%, will be increased to 13%.
"The government will also consult on whether qualifying R&D tax credit costs should include investments in data and cloud computing."
£900m will also be invested to "ensure UK businesses are leading the way in high-potential technologies" such as nuclear fusion, space and electric vehicles.
Boost for broadband
Sunak also reiterated the need for improved digital infrastructure. As previously announced, the government will pump £5bn into ensuring homes and businesses in the hardest-to-reach areas of the UK will get gigabit-capable internet, and increase 4G coverage through the Shared Rural Network agreement, which has now been finalised.
"Today's Budget provides £5bn to get gigabit-capable broadband into the hardest-to-reach places," he said.
Some £510m of new investment will go into the shared rural mobile phone network, which means that in the next five years, 4G coverage will reach 95% of the country.
Digital businesses
As previously announced by then chancellor Philip Hammond in the 2018 Budget, the government is introducing a digital services tax on internet giants such as Amazon, Facebook and Google to ensure they make a fair contribution to funding public services.
The tax, which comes into force on 1 April, will "ensure the amount of tax paid in the UK reflects the value these businesses derive from their interactions with, and the contributions of, an active user base," the red book said.
"The government remains committed to developing a multilateral solution to the challenges digitisation has created for the corporate tax system and will repeal the digital services tax once an appropriate global solution is in place."
The government is also aiming to boost competition in digital markets, following a review of tech sector giants such as Google, Amazon and Facebook, which found the companies should face more competition in order to unlock opportunities brought by the digital economy.
Sunak also announced changes to the Entrepreneurs' Relief, saying it is "expensive, ineffective and unfair" and pledging to reduce the lifetime limit from £10m to £1m.
The government will also launch a review of the fintech sector, which aims to support growth and competitiveness. "In addition, the government will convene a summit looking at what further data needs to be made accessible to make it faster and easier for SMEs to shop around for credit," the red book said.
Other budget announcements included plans to boost science, technology, engineering and maths teaching, offering £120m in capital investment to create eight new institutes of technology – as well as an additional £67m for intelligence services, to "enable them to develop further their world-leading technological capabilities to protect the UK's security and help keep the country safe".
Content Continues Below

Download this free guide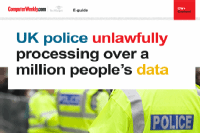 Police unlawfully process over a million people's data
The roll-out of Microsoft 365 to dozens of UK police forces may be unlawful, because many have failed to conduct data protection checks before deployment and hold no information on their contracts. Download this E-Guide to find out everything you need to know about the story.
Read more on IT for government and public sector