Romolo Tavani - stock.adobe.com
ANZ firms ill-prepared to deal with tech issues
More than two in five businesses in Australia and New Zealand are hearing from customers about major technology issues, affecting productivity and staff morale, new study finds
Amid rising consumer expectations, companies in Australia and New Zealand (ANZ) are still grappling with unplanned technology issues that are not covered by their response plans, a new study has found.
According to PagerDuty's State of unplanned work report 2020, over two in five businesses have discovered major technology issues from their customers, indicating that many are reacting to incidents after they have already had a negative impact.
Additionally, these unplanned issues are highly prevalent, with nearly one in three businesses experiencing major technology issues at least once a week. These issues are already affecting workers, with respondents reporting more stress and anxiety, health issues, and declining interest in their jobs. In some cases, a company's brand was damaged.
As many technology issues were not covered by incident response plans, more than one in two stated that resources are routinely diverted to unplanned work, while three in four said unplanned work is an inhibitor to innovation.
"Increasingly complex IT ecosystems and rising customer expectations are extremely difficult to manage," said Jonathan Rende, senior vice-president for product at PagerDuty.
"When delays, downtimes or outages occur, it not only diverts resources away from critical projects, but it often has far-reaching consequences such as lost customers and revenue, reputational damage and employee impact."
Having some form of automation could help. According to the study, nearly a third of businesses have no automation in place for resolving major technology issues, while over half said just a few of the actions are automated. Some 13% said most actions are automated, and just 2% said the entire process is automated.
Read more about IT in Australia and New Zealand
Commenting on ANZ organisations being unprepared with little or no automation in place, Rende said: "Technology problems are business problems. It's now more important than ever for a company to solve problems and find opportunities in real time."
"Software developers are market makers and a customer's digital experience defines a company's success," he continued. "When teams aren't able to innovate quickly, companies are more exposed to competitive threats."
"Having an automated, digital operations management platform that is underpinned by machine learning is critical today. It allows companies to bring the right people together in real time to enable businesses to quickly orchestrate a response, stop the finger pointing, and spend more time innovating and enhancing their customers' experiences."
Content Continues Below

Download this free guide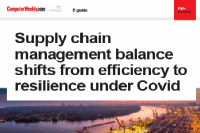 Supply chain management balance shifts from efficiency to resilience under Covid
This e-guide explores these matters, beginning with a comprehensive article that ranges over supply chain management, from a macro level through how trading platforms have been flexed to switch suppliers rapidly down to how robots have been quickly deployed to solve problems of scale.
Read more on IT operations management and IT support