Fotolia
Apple posts record-breaking quarter, but prepares for Coronavirus impact
The Coronavirus outbreak is having a direct impact on Apple's supply chain and its Chinese retail stores and channel partners
Apple has reported revenue of $91.8bn for the first quarter of 2020, up $7.5bn (9%) from 2019, driven by an 8% increase in smartphone sales.
The company reported iPhone revenue of $56bn up 8% year-over-year and stated that its wearables, home and accessories products established a new all-time record with revenue of $10bn, up 37% year-on-year. Its services business reported revenue of $12.7bn, with what the company described as "all-time records" in Apple Music, cloud services, payment services and its App Store search ad business. However, the company admitted Mac and iPad product families "had a tough year".
"We are thrilled to report Apple's highest quarterly revenue ever, fuelled by strong demand for our iPhone 11 and iPhone 11 Pro models, and all-time records for services and wearables," said Apple CEO Tim Cook.
Virus impact
Given that Apple manufactures many of its products in China, Cook said the company was keeping a close watch on the Coronavirus, since the virus has the potential to directly impact Apple's ability to build its products, and to sell them to consumers in China.
In a transcript of the earnings call, posted on the Seeking Alpha financial blogging site, Cook said: "First and foremost, our thoughts are with all of those that are affected across the region. And as I've mentioned, we're donating to groups that are working to contain the outbreak. We are also working very closely with our team and our partners in the affected areas, and we have limited travel to business-critical situations as of last week.
"The situation is emerging and we're still gathering lots of data points and monitoring it very closely. As Luca [CFO, Luca Maestri] had mentioned, we have a wider than usual revenue range for the second quarter due to the greater uncertainty."
When asked about how the outbreak could affect Apple's supply chain, Cook said the company had "some suppliers" in the Wuhan area, where the virus was first identified. He said these represent Apple's "ultimate sources". "We're obviously working on mitigation plans to make up any expected production loss," he added.
Beyond the Wuhan area, Cook said Apple has had to delay the reopening of its factories following Chinese New Year by 10 days until 10 February. Cook reported that Apple has also closed one of its retail stores, as have a number of its channel partners.
"With respect to customer demand and sales, we've currently closed one of our retail stores, and a number of channel partners have also closed their store fronts. Many of the stores that remain open have also reduced operating hours. We're taking additional precautions and frequently deep-cleaning our stores, as well as conducting temperature checks for employees."
Content Continues Below

Download this free guide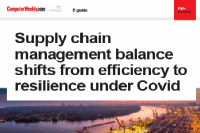 Supply chain management balance shifts from efficiency to resilience under Covid
This e-guide explores these matters, beginning with a comprehensive article that ranges over supply chain management, from a macro level through how trading platforms have been flexed to switch suppliers rapidly down to how robots have been quickly deployed to solve problems of scale.