Telefonica Deutschland
Huawei counted in as Telefónica Deutschland lays out mid-term strategy
3G to be switched off in 2022 by Telefónica Deutschland as it lays out strategy to drive growth with particularly aggressive plan to accelerate 5G development
Germany may be convulsed in legal wrangling regarding which foreign firms' technology can be used on communications networks, but for Telefónica Deutschland, this is at least a non-matter as regards its mid-term ambitions.
The German telco has named Chinese tech giant Huawei alongside Nokia as key suppliers as it builds out what it regards as a network fitting for the next decade, entering the era of 5G and opening up a new chapter in its history, which is nearly 25 years long in Germany.
This comes hot on the heels of announcing a partnership with other leading German telcos to boost mobile coverage throughout the country, for 5G Telefónica Deutschland aims to further accelerate its growth trajectory with a three-pronged strategy.
This strategy will include: growing mobile market share in rural areas while reinforcing its position in urban environments; smart bundling of fixed and mobile products and fixed-mobile substitution to deliver technology-agnostic products for customers; and capitalising on business-to-business (B2B) market opportunities, particularly in the small to medium-sized enterprise (SME) segment.
Nokia and Huawei have been enlisted to provide technology for the 5G radio access network.
At the same time, the company will continue to embark on its Digital4Growth transformation programme and fulfil its ambition to become the German mobile customer and digital champion.
The expected result of applying these programmes is a projected minimum cumulated revenue growth of 5% in the three-year period between 2020 and 2022. Operating income before depreciation and amortization (OIBDA) is forecast to not just come from the expected revenue streams, but from continued efficiency gains, as the company strives for ongoing margin improvement.
To capture these growth opportunities, Telefónica Deutschland is introducing a two-year, network-focused investment programme. It will centre on boosting rural coverage primarily with 4G and accelerating urban capacity primarily with 5G. The basis will be a smart investment profile that foresees the re-farming of spectrum and efficient use of technologies including the envisaged switch-off of its 3G network by the end of 2022.
Read more about Telefónica
Content Continues Below

Download this free guide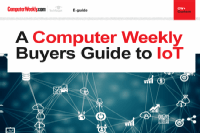 A Computer Weekly Buyers Guide to IoT
In these uncertain times, making solid predictions for the year ahead looks like a definition of a mug's game. While this has been the fuel for the fire for the boom in applications such as video conferencing as used to support remote working, the same really can be said for the internet of things (IoT). Download this E-Guide to find out what enterprises need to know about IoT.
Read more on Telecoms networks and broadband communications