Silvano Rebai - Fotolia
Juniper claims longest 400GbE deployment
As pressure grows to support bandwidth demands from advanced high-performance computing uses cases, Juniper Networks announces success in 1,300-mile 400GbE network test
In what it claims is a milestone for both itself and the networking industry, Juniper Networks has successfully completed a field trial delivering 400Gbps Ethernet live traffic over 1,300 miles.
The field trial – conducted in conjunction with SCinet – is said to mark an important step in progressing the transition to 400GbE network capacity, which Juniper says is vital to support bandwidth demands from advanced high-performance computing, next-generation cloud datacentre architectures, emerging 5G networks, augmented and virtual reality, and 4K video production and distribution.
The trial, held in the week beginning 18 November, was conducted between Denver and Chicago using Juniper's PTX10003, the industry's first fixed-configuration core router to support 400GbE.
The 400GbE link was part of 4.22 Terabits of connectivity provided by the SCinet high-capacity network, which is based on Juniper's PTX10003 packet transport router to deliver capacity, flexibility and programmability. Juniper also supplied SC19 with additional networking infrastructure to build SCinet, including MX2019 and MX960 routers, QFX switches and SRX4600 firewalls. All infrastructure kit ran the Junos operating system.
Rob Vietzke, vice-president of network services at US research and education network Internet2, a partner on the project, said: "Researchers increasingly depend on moving massive datasets to supercomputer centres and to the cloud to support collaborative science that can advance breakthroughs in everything from astrophysics to healthcare.
"Increasing capacity, reducing complexity and increasing automation and self-service capabilities in our networks are critical to their future. Internet2 is delighted to have the opportunity, with Juniper and other industry and R&E collaborators, to deliver this 1,300-mile 400GE link to the SC community."
Read more about gigabit networks
Content Continues Below

Download this free guide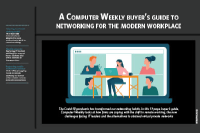 A Computer Weekly buyer's guide to networking for the modern workplace
The Covid-19 pandemic has transformed our networking habits. In this 17-page buyer's guide, Computer Weekly looks at how firms are coping with the shift to remote working, the new challenges facing IT leaders and the alternatives to strained virtual private networks.