Carlos Luna/Flickr
Google to launch bank accounts in 2020
Google is launching bank accounts in the US in 2020 as tech giants continue to deepen their activities in the financial services sector
Google will offer US consumers bank accounts next year, as the tech industry continues to broaden into the financial services sector.
According to the Wall Street Journal, the tech giant will offer checking accounts (the US equivalent of current accounts) to consumers through a partnership with Citigroup and Stanford Federal Credit Union. The report said this could start next year as part of a project known as Cache.
Speaking to the Wall Street Journal, Google executive Caesar Sengupta said: "If we can help more people do more in a digital way online, it's good for the internet and good for us."
Google already does financial services such as Google Pay, but a bank account takes this deeper. It won't be the first tech firm to partner with financial services companies to offer products – Apple' credit card, called Apple Card, is underpinned by Goldman Sachs, for example.
Since Apple Card's launch in August, it has lent out $10bn in credit to its users, with current loan balances worth more than $700m, according to a regulatory filing from Goldman Sachs.
In 2018, it was reported that Amazon was talking to JPMorgan about potentially setting up checking accounts for younger people or the unbanked.
One IT professional in the UK banking sector said: "If the big tech firms like Google and others wish to get into specific financial services, they have the power to beat the banks. But increasing regulation and deglobalisation of financial services may put them off."
A few years ago, in its Why Google bank won't happen report, Forrester said the high costs and strict regulation of setting up a traditional bank – alongside advertising revenue coming from banks – will push internet firms into roles that support the relationship between banks and their customers.
Gareth Lodge, analyst at Celent, said: "Them [Google] using a banking partner makes sense – the regulatory aspect shouldn't be underestimated."
He added that there have been far fewer challenger banks emerging in the US compared with the UK.
"Many younger people may feel greater affinity with the [Google] brand they use on a daily basis than a bank they rarely interact with," he said. "This could see them win customers who will stay with them for many years to come."
Read more about Google Bank theory
Content Continues Below

Download this free guide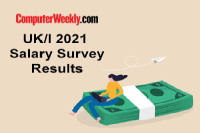 2021 UKI Salary Survey - Salary Infographic
We take a look at our 2021 Salary Survey results from over 300 respondents who work in the UKI IT sector. We will be breaking down which job functions get paid what, what areas of IT companies will be investing in in 2021, the current diversity landscape residing in the UK tech sector and how the pandemic has effected IT staff.
Read more on IT for financial services