olly - stock.adobe.com
Synchronoss joins US big four operators in cross-carrier messaging initiative
Joint venture aims to deliver advanced mobile messaging experience across suppliers' mobile networks
Synchronoss Technologies has joined AT&T, Sprint, T-Mobile and Verizon in a joint venture to deliver advanced mobile messaging experiences, aiming to accelerate the delivery of rich communications services (RCS)-based messaging through a single integrated application.
Bringing systems developed with partner WIT Software to the party, Synchronoss says advanced messaging technology will help power a fully interoperable, rich messaging application for the Cross-Carrier Messaging Initiative (CCMI).
With customer consent, this technology could potentially allow businesses to directly interact with their customers using branded, interactive multimedia communications and one-to-one messaging. The application is also designed to allow users to add advanced multimedia capabilities to their text messages and accomplish, engage and interact with their favourite brands without switching from app to app.
"The CCMI has the potential to transition the wireless ecosystem to a new, innovative messaging service that will power new experiences, allowing US wireless customers to manage their digital life and enabling efficient and convenient interactions with their favourite brands from a single application," said Glenn Lurie, president and CEO of Synchronoss Technologies.
"The launch of this initiative signals the beginning of the era of advanced messaging in the US that will begin to unite communication, services and entertainment in entirely new ways. We believe there is tremendous potential for this in the US on multiple fronts. This collaboration exemplifies how working together can enhance the entire mobile ecosystem."
Doug Garland, general manager of the CCMI joint venture, added: "By collaborating with Synchronoss, we'll be able to successfully advance the messaging experience through RCS and take the next step to further the conversational commerce ecosystem. With new RCS capabilities, all four wireless carriers together will be able to create a better overall mobile messaging customer experience."
Read more about mobile networks

Download this free guide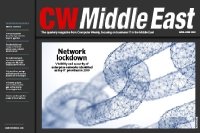 CW Middle East: Visibility and security of networks are top IT priorities
Discover how companies across the Middle East are looking to lock down their networks in the face of an almost constant barrage of threats and malicious actors.