alphaspirit - stock.adobe.com
CityFibre announces consultation to speed up full fibre switchover
CityFibre undertakes industry-wide consultation process regarding the role of builders such as itself in developing the switchover from legacy copper networks
Wholesale full fibre provider CityFibre is to undertake an industry-wide consultation process regarding the role of builders such as itself in developing the switchover from legacy copper networks, in an attempt to provide momentum in the development of a fibre infrastructure for the UK.
With the issue of a national fibre broadband roll-out a political hot potato, and with prime minister Boris Johnson pledging to deliver full fibre broadband to every home in the UK by 2025, CityFibre believes that only by collaborating as an industry – with the full support of the UK government and communications regulator Ofcom – will the UK be able to make the evolution to a future-proof full fibre platform.
To that end, the consultation will aim to provide communication providers of all sizes with an opportunity to stipulate what provisions would be required to support all legacy services on the new networks.
Questions such as what the process should be for mass migration of customers, and what steps are needed to ensure easy and hassle-free switching for consumers, are expected to be discussed.
Set to commence over the next few weeks, the consultation will be undertaken by Assembly Research, an analyst firm specialising in communications markets.
"Our consultation will ensure we play our part in this switchover and that the eventual retirement of the copper networks is managed in a way that promotes sustained infrastructure investment from a range of organisations," said CityFibre chief executive officer Greg Mesch.
"We look forward to engaging with the whole industry, including Openreach and BT Retail, to help develop a national plan to efficiently and smoothly upgrade Britain."
Read more about CityFibre
CityFibre already has a £2.5bn project, the Gigabit City Programme, which aims to see full fibre broadband reach over five million homes and businesses, covering over 60 towns and cities, contributing more than 20% of the government's target.
Stirling will be the first city in the programme ready for a copper-to-fibre switchover by summer 2020.
Content Continues Below

Download this free guide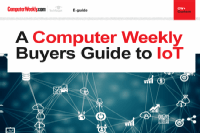 A Computer Weekly Buyers Guide to IoT
In these uncertain times, making solid predictions for the year ahead looks like a definition of a mug's game. While this has been the fuel for the fire for the boom in applications such as video conferencing as used to support remote working, the same really can be said for the internet of things (IoT). Download this E-Guide to find out what enterprises need to know about IoT.