Getty Images
Activist Lauri Love's computer 'contained hacked data', says judge
Lauri Love, who has been accused of hacking into US government computer systems, has lost a legal action against the NCA for the return of his computers and storage device
Lauri Love was told by a court today that the UK's intelligence agency, the National Crime Agency (NCA), had no duty to return computer equipment seized from his parents' home five years ago.
During a heated exchange at Westminster Magistrates' Court, Love narrowly avoided having to pay £8,000 costs after bringing an action against the NCA under the Police Property Act 1897.
District judge Margot Coleman told Love that his computer equipment contained material that did not belong to him and was needed by the NCA while it considered whether to bring criminal charges against Love over allegations of hacking.
In a 10-page judgment, Coleman said she was satisfied on the balance of probabilities required in a civil case that data on Love's computer drives "appeared to have been hacked".

According to the judgment, a hard drive on one of Love's laptops contained encrypted data in a file with the name "trucrypt1" which held confidential data.

This is alleged to have included hacked data from the US Department of Energy and the Senate, copies of UK and foreign passports, the names and home addresses of 258 court staff and judges in California, folders containing the credit card details of more than 232,000 individuals, and details of harassment and discrimination claims made within the US military.
"I was provided with a great deal of information, took time to go through all documents and consider your arguments and the arguments of the National Crime Agency," the judge told Love. "I have made a finding that the information on that hardware is not yours and you are not entitled to have it returned to you."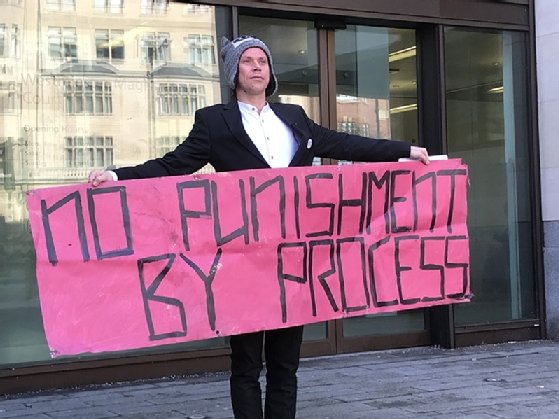 Love had previously faced an extradition order from the US, and a possible prison sentence of up to 99 years, for allegedly hacking into US government computer systems as part of an online protest against US prosecutors' treatment of internet pioneer Aaron Swartz.
The judge dismissed Love's arguments that the NCA should return three computers and two storage devices that were sized from his family home in Stradishall, Suffolk, after failing to press charges for nearly a year.
Coleman said that a year was reasonable, given the scale of the enquiry – other similar cases had taken three or four years.
"The evidence in your case is huge," she said. "The data is huge. What was harvested represents millions and millions of pages of data." But the judge said that just "scratched the surface", as more evidence is likely to be supplied by prosecutors in the US.
NCA presses for costs
In heated exchanges over whether to award costs against Love, the judge said Love had refused to co-operate with the court and it was "irritating" that the public should have to pay the court costs.
Andrew Bird, representing the NCA, asked the court to order Love, who is unemployed and receives benefits of £120 a week, to pay the costs of the hearing.
Because Love had chosen to bring the legal action by filing a complaint against the NCA, rather than filing an application, the NCA was entitled to ask for costs, the court heard.
"Mr Love made a complaint, whether he intended to or not," said Bird.
Bird said the court should award costs because, firstly, Love had made previous applications for the return of his computer equipment, but had then withdrawn them.
"Secondly, when the chief magistrate was considering listing this case, Mr Love was told he was unlikely to get his equipment back, but he continued with the claim," he said.
The judge asked Love whether he agreed that he had been warned his case was unlikely to be successful.
Love told the court that people should not be dissuaded from seeking justice, even if the chance of the restoration of their rights was not 100% favourable or 50% favourable – it was important that the arguments should be heard.
"Mr Love, your arguments did not even get off the starting block because you did not have an argument," the judge said.
Tense exchanges
In a series of tense exchanges, Coleman asked Love: "Why did you start one proceedings, then bring another set of proceedings? You started one set of proceedings, withdrew them, and restarted them."
Love responded: "There was an unlawful direction made by Bury St Edmunds Magistrates' Court."
"Stop beating about the bush," said the judge. "Why, three months later, did you decided to launch it again?"
"The extradition, " said Love.
"What has extradition got to do with that?" said Coleman.
"Because there was a chance I could be taken away from the country," said Love. "It is very hard to use civil courts when you are in a cell in New Jersey or New York."
The judge retorted: "Mr Love, you are not the victim. You brought this on yourself – you are the author of your own misfortune."
Coleman said that as Love was a litigant in person, and could not be expected to know court procedure, she would not make an order for costs.
"I am not going to make an order which, technically, could be made against a litigant in person, who did not know at the time," she said. "It is irritating, to say the least, that the taxpayer has had to bear the cost of the proceedings."
Coleman strongly urged Love not to bring further proceedings against the NCA until it was clear whether the NCA was going to bring legal proceedings against him for alleged hacking offences.
"You did not co-operate," she said. "You did not comply with an order made by the County Court. You did not comply with the directions of Bury St Edmunds Magistrates' Court. You were also asked to make disclosures for a hearing I dealt with and you did not comply with that. There has been no co-operation."
The judge said she had written a closed judgment containing detailed evidence, alongside a 10-page public verdict, which will be released only if the NCA and the Crown Prosecution Service (CPS) decide not to prosecute Love.
Information allegedly found on Love's laptop
According to a 10-page judgment released today, based on civil, rather than criminal, standards of proof, a hard drive on a computer seized from Love's home address allegedly contained encrypted data in a file called "'tryecrypt1", including:
Hacked data from the US Department of Energy.
Details of complainants and respondents to discrimination and harassment claims within the US military.
Copies of passports, both UK and foreign, with no apparent legitimate connection to Love.
Email addresses and associated passwords (the passwords in "hashed" format, but which can in certain cases be unhashed).
Details of names and home addresses and contact details of 258 court staff and judges in California.
Folders beginning "lolcc" containing details of over 232,000 individuals with their names, billing address, email address, telephone number, credit card number, expiry date and CVV number, together with details of transactions, many of which appear to be donations to charities having no apparent connection with Love.
Private data, including photographs of vulnerable children, from an autism charity and treehouse school.
According to the public judgment, police officers raided Love's parents' home on 23 October 2013 and removed 30 items of computer equipment, of which 23 have now been returned.
Police conducted a "Harvest" exercise to view and recover data on Love's hard drives. They were able to gather 124GB of data – equivalent to 67 million pages of A4 – before the encryption process cut-in on Love's computer.
Love told a hearing at Hendon Magistrates' Court on 11 February 2019 that there was personal information of "inestimable sentimental value" on his computers, it can now be reported.
Love said the NCA had effectively banned him from leaving the country because he was still at risk of extradition to the US.
He told the court it had been five and a half years since he was first arrested and the CPS had still not received a file from the police.
"One should do one's business or get off the pot," Love told the court.
Police need to analyse 'massive amounts of data'
Judge Coleman found that the identity Love used for himself online suggested he had gained unauthorised access to highly confidential US and UK servers and had obtained "massive amounts of compromised data".
She said in the written judgment that the NCA must go through all the data collected before it can complete its investigation, and assess three files of evidence from the US, only one of which has so far been received. "It is a massive undertaking and clearly takes time," said Coleman.
The judge found that Love had been evasive during cross-examination by repeatedly refusing to answer questions until full disclosure of evidence had been made to him and his legal team within a criminal prosecution.
"The applicant has the right not to self-incriminate, but his refusal to answer questions about the content of computers has made it impossible for him to discharge the burden of establishing that the data on his computers belongs to him and ought to be returned to him," the judgment said.
The judge rejected arguments by Love that others may have used his computers as a "repository of data", finding as fact that the information on the Harvest drive had been taken from Love's computer equipment.
"I can see no legitimate purpose for the applicant being in possession of this data and it would clearly not be in the public interest for him to have any of it," the judgment said.
"Indeed, Mr Love is at risk of the commission of further offences if he were to regain possession of this data. The information would be of considerable use to those engaged in organised crime."
Coleman said she was satisfied that the NCA needed to retain the computer equipment for its investigation and any subsequent trial, and that copies or images of the hard disks would not be sufficient for a criminal trial.
'I want to be prosecuted'
Speaking after the case, Love said he wanted to be tried in the UK courts. "My ultimate aim is to be prosecuted," he said. "That's a weird thing to say because I don't think I committed a crime, but until I am prosecuted, successfully or unsuccessfully, I can't leave the country."
Love said he had lived through five and a half "very harrowing years" with the extradition proceedings hanging over him.
"I am hoping that within the next year at the latest, this comes to a conclusion," he said.
"Had I been promptly charged and prosecuted in 2013, all of this nonsense would be a distant and, like some of my friends, I would be laughing about it and getting on with my life.
"If the NCA brings a case to the CPS (Crown Prosecution Service), then a charge is levied, then we get an even playing field because then I'd be allowed access to the evidence they used in these proceedings. Then things may start to get a little better."
Love said that although the judge had advised him not to press the matter at the Court of Appeal, he would have to "meditate" on the matter.
The Appeal Court quashed an attempt by the US to extradite Love to face criminal hacking charges in three US states in February 2018 on the grounds that it would be oppressive to Love's physical and mental health, given his diagnosis of Asperger's and depression. The court ruled that he was at high risk of suicide if extradition went ahead.
Speaking outside the court today, Love said: "If I hadn't appealed the extradition, I'd be dead. But now, if I don't appeal this case, I can just see that the law has taken a very regressive stance on cryptography and people no longer have property rights if they do not cooperate in decryption.
"This is a terrible state of affairs, personally for me, but it's better than being kidnapped and locked up and killed. So I don't know what will happen next. We'll see."
MP urges quick decision
Barry Sheerman MP, who led a campaign against Love's extradition in Parliament, urged the CPS to make a quick decision on whether to charge Love – who has been diagnosed with autism and depression – rather than leaving him in legal limbo. .
"Lauri's case helps all of us in understanding the needs of people on the autism spectrum and, hopefully, will lead to much-needed appropriate reform of the criminal justice system," said Sheerman.
It can now be reported that during an earlier hearing on 11 February 2019, the court heard evidence from four offices of the NCA, and Steve Maughan, head of IT at a charitable organisation helping vulnerable children, covering data allegedly found on Love's computer equipment.
Love's battle with the NCA and US Department of Justice
25 October 2013: National Crime Agency (NCA) arrests 28-year-old Lauri Love under the UK's Computer Misuse Act, on suspicion of network intrusion offences against the US Army, US military and US government. He is released on bail until February 2014.
28 October 2013: Love is indicted in New Jersey for hacking US government computer systems run by the Army, Missile Defence Agency, Environmental Protection Agency and Nasa. Authorities allege he worked with accomplices to hack into thousands of computer systems and downloaded confidential information on thousands of people, including members of the military.
February 2014: Police attempt to force Love to hand over his encryption keys under Section 49 of the Regulation of Investigatory Powers Act (Ripa). Love refuses, facing a possible jail sentence of two years. UK police make no attempt to prosecute.
27 February 2014: Love is charged in New York with allegations of working with other computer hackers to access the computer servers of the US Federal Reserve Bank. He is accused of stealing confidential information, including emails and phone numbers, and posting it to a website.
7 July 2014: NCA releases Love on bail.
24 July 2014: The Eastern District of Virginia indicts Love for allegedly hacking computers at the Department of Energy, the US Department of Health and Social Services, the US Sentencing Commission, the FBI's Regional Computer Forensics Laboratory and two companies, Deltek and Forte Interactive.
November 2014: NCA offers to return Love's remaining property on condition that it forensically wipes the data on the devices. Love refuses, saying the devices contain everything he owns digitally, including personal photographs, writing and other creative pieces of work.
March 2015: Love launches his first legal action against the NCA for the return of computer equipment seized from his home, under the Police (Property) Act. Bury St Edmunds Magistrates' Court gives case management directions that Love provides decryption keys. Love objects, then withdraws his application to recover his property.
May 2015: NCA returns a number of items it had seized from Love's parents' house, but holds on to two desktops, a laptop and other devices which officers said they had been unable to decrypt.
3 July 2015: Love withdraws his court action against the NCA after it returns 25 items seized from his home, including laptops, computers, sticks and hard drives. NCA retains six other items of computer equipment, which it alleges contain encrypted files.
15 July 2015: Love is rearrested by the Metropolitan Police extradition unit.
November 2015: Love launches legal action against the NCA for the return of his computer equipment – a desktop computer, two laptops, two external hard drives and an SD card.
April 2016: In an unusual legal move, the NCA attempts to use civil court proceedings to force Love to hand over encryption keys and passwords at a hearing at Westminster Magistrates' Court.
10 May 2016: Westminster Magistrates' Court rejects an attempt by the NCA to order Love to hand over encryption keys. Judge Nina Tempia tells the court that she "was not persuaded" by the NCA's demands that Love disclose the passwords to computer equipment seized from his home.
16 September 2016: Judge Tempia approves Love's extradition, passing the case on to home secretary Amber Rudd.
14 November 2016: Home secretary Amber Rudd approves Love's extradition to the US.
29-30 November 2017: Love's appeal against extradition is heard over two days at the Royal Courts of Justice in London.
5 February 2018: Court of Appeal rules that Love will not face extradition to the US to face hacking charges. In a landmark legal decision, the Lord Chief Justice, Lord Burnett, rules that extraditing Love, a 33-year-old engineering student who has Asperger's and suffers from depression, would be oppressive to his physical and mental health. The court urges the NCA to prosecute Love in the UK.
19 December 2018: NCA confirms there is a live investigation into Love in the UK, as Love brings legal action against UK police for the return of seized computer equipment.
18 February 2019: District judge Margot Coleman imposes reporting restrictions as Love and the NCA present evidence in Hendon Magistrates' Court. Love argues that the NCA has a legal duty to return his computer equipment under the the Police Property Act 1897 after failing to bring charges for alleged computer hacking.
Read more on Hackers and cybercrime prevention