iaremenko - stock.adobe.com
Central Saint Martins hosts Three's 5G trial for London Fashion Week
Three's trial 5G network will enable the world's first augmented reality fashion show at Central Saint Martins, while consumers can test out a prototype network at its flagship store
Mobile network operator Three is to switch on its first 5G test network at London arts school Central Saint Martins (CSM) on 15 February to show off an augmented reality (AR) catwalk at London Fashion Week.
Using one of the first live 5G installations in the country, this year's CSM MA fashion show will see model (and rock star progeny) Lennon Gallagher bring up-and-coming designer Gerrit Jacob's collection to life using augmented or "mixed" reality technology provided by startup Rewind.
Jacob described the collection as an "eclectic and colourful" interpretation which draws inspiration from 1980s videogames, fairgrounds and his time spent living in Hamburg. The 5G network, described as the "next generation" of mobile networks, draws inspiration from previous 4G and 3G standards.
"5G allows us to deliver next-generation immersive experiences. It removes current limitations, allowing imaginations to run wild," said Rewind senior creative Greg Furber.
"The ultrafast connection 5G provides enables off device rendering, synchronised experiences, and a whole host of other exciting possibilities. 5G unlocks the full potential of AR, MR [mixed reality] and VR [virtual reality]."
Jeremy Till, head of CSM, added: "The future of design and fashion is intrinsically linked with the evolution of tech and we are seeing more disruptive and innovative technologies shaking up the way the design and fashion industries operate."
Away from the excitement of London Fashion Week, the collaboration between Three and CSM is actually part of a long-term creative partnership between the two organisations.
The operator has also helped in the creation of a design-focused 5G laboratory for CSM, which includes internet of things (IoT) hardware and other connected technology to allow students to experiment with new ways of creating art and design using AR, MR, VR and cloud technology.
Three said it hoped the collaboration would enable students to create 5G-enabled retail concepts and products.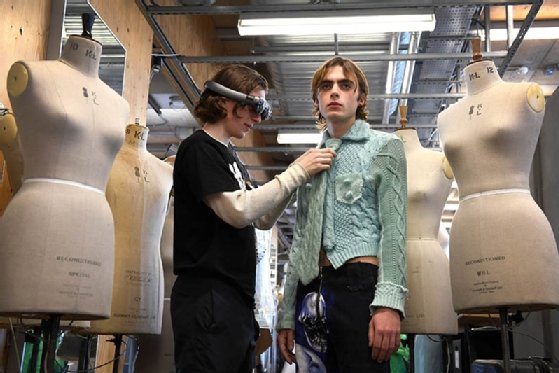 "We are turning up the volume on 5G and bringing it to life for the first time in the UK, right here in the heart of the fashion world. By giving students access to the next generation of mobile technology, they will be able to push the boundaries of learning, innovation and sustainability to create in a way that's never been possible," said Three's chief marketing officer Shadi Halliwell.
"Our students are already picking up on the latest technologies and incorporating it in their work and the collaboration with Three's 5G will turbo-boost this engagement with technology," added Till.
"We are sure that the ongoing relationship with Three will put our students at the forefront of long-term trends in design and fashion. It is an enormously exciting collaboration for both parties, and one which will allow our students to speculate on yet unheard possibilities in the creative use of 5G."
Beginning in March 2019, Three customers will also be able to experience the mixed reality catwalk themselves when the operator turns on another mini-5G network at its Oxford Circus retail store.
Read more about 5G trials
The Nordic region could pioneer the commercial use of 5G, with Finland and Sweden hotbeds for the technology.
Vodafone and O2 have agreed non-binding heads of terms that will extend their 4G network-sharing agreement to 5G when it becomes available.
Android smartphone brands are already preparing to launch their first 5G handsets, but new technical requirements means they won't be cheap to build, according to analysts at TrendForce.
Read more on Mobile networking