Cloud and backup top storage priorities for 2019
Deploying the cloud for primary and secondary storage and backup and archiving project top project priorities in 2019. SAN, NAS and hyper-convergence also prominent
Cloud-based initiatives and backup and archiving dominate UK IT departments' storage projects for 2019.
Cloud storage and backup/archiving projects feature in five of the top six storage priorities reported by more than 250 respondents to this year's Computer Weekly/TechTarget IT Priorities research.
Top of the list for primary storage projects is cloud backup as a service, which is a priority in 2019 for 33% of those asked. After that come virtual server backup (29%), backup software refreshes (27%), public cloud storage (26%) and data archiving (23%).
Of the top six, the only one not directly related to cloud storage or data protection is data management, which is a priority for 28% of respondents.
Traditional shared storage is still very much a key primary storage initiative for many IT departments, however, with about one-fifth planning storage area network (SAN) and network-attached storage (NAS) projects in 2019 (21% and 19% respectively).
Meanwhile, hybrid storage arrays will be a focus for 16% of those asked, while 12% plan object storage deployments.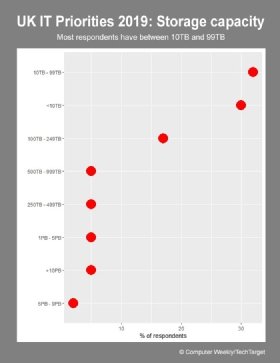 Hyper-converged infrastructure (HCI) was listed as a key primary storage initiative for 2019 by 14% of respondents, although elsewhere in the survey 21% said they would use HCI in production and 67% said they expected the share of HCI in their organisation's compute capacity to increase.
When asked about secondary storage projects, the cloud and backup/archiving also dominated.
Cloud backup as a service came out on top again, with 37% citing it as a key initiative for 2019. After that are backup software projects (30%) and data archiving (26%). These are followed by projects in on-premise disaster recovery (21%) and backup hardware deployments (19%).
The survey also asked how much storage capacity organisations retain. The largest number (32%) of those asked have between 10TB and 99TB, while 30% have less than 10TB. Meanwhile, 17% have between 100TB and 249TB and 5% have more than 10PB.
Read more about cloud storage
Read more on Data protection regulations and compliance