sas - Fotolia
HMCTS suffers major IT issues
HM Courts and Tribunals Service has been experiencing problems with several of its IT systems over the past few days, including secure email and network issues
Significant IT issues at the HM Courts and Tribunal Service (HMCTS) have caused chaos across the UK's courts as users have been unable to connect to the network and use IT systems that require access to it.
The issues began last week and are mainly affecting devices trying to connect to the main Ministry of Justice (MoJ) network, which is used by the department as well as all its agencies and several arm's-length bodies.
The MoJ has been working around the clock, together with technology suppliers Atos and Microsoft, to resolve the issues and restore access, as the ongoing issues have severely disrupted court services.
However, the MoJ said hearings continue to progress in courts across the country, with 75% of court staff now able to use the IT systems, but added that "we appreciate the extra burden placed on court users still without network access".
People have taken to social media to vent their frustrations, saying the problems have led to court computers being offline, staff not being able to access court documents and prosecutions having to be adjourned.
The Secret Barrister said on Twitter: "The entire digital infrastructure of the courts has been broken for days. Phones aren't working, court computers are offline, email is down. Imagine the headlines if it were the NHS. But it's only justice, so no one cares. No accountability, no lessons learned."
Another Twitter user, Bryce Lawrence, called it "unacceptable" and said the "additional stress on practitioners is unsustainable".
The Bar Council has also contacted the MoJ for an update on the problems as many reported major disruptions to court services.
Richard Atkins QC, chair of the Bar, said he had no doubt the MoJ and HMCTS were doing "all that they can to rectify this major problem", but added that it "illustrates how vulnerable the delivery of justice is with reliance on weak IT systems in our courts".
"We cannot have a justice system that comes to a shuddering halt the moment the IT does not work properly"

Richard Atkins QC, Bar Council
Referring to HMCTS's £1.2bn programme to overhaul the courts through the use of technology, Atkins added: "Whilst HMCTS is moving forward with its programme of online justice, these problems would suggest that more investment in the basics is needed first. We cannot have a justice system that comes to a shuddering halt the moment the IT does not work properly."
The MoJ said the network issues had nothing to do with the courts modernisation programme.
No evidence of cyber crime
There have also been fears that the outage was caused by a cyber attack and sensitive information would go missing. However, the MoJ said there was no evidence of "any malicious cyber activity" and that there had been "no loss of data as a result of the issues".
An MoJ spokesperson said it apologised "to those who have been affected by the network issues that we have been experiencing over recent days".
"The urgent work we have been carrying out with our suppliers has led to significant improvements, but this work is ongoing and we have contingency plans in place," the spokesperson said.
"While services have continued to operate and alternative network access is now in place for most, we know how frustrating this is for anyone affected and we are disappointed that our suppliers haven't yet been able to resolve the network problems in full. We continue to work with them to return services to normal."
Last week, separate IT issues also led to users of the Criminal Justice secure email system being unable to access, send and receive secure emails through the platform. According to the department, the issues only affected around 12.5%, or 75,000, of users, and has "largely been resolved".
The MoJ also denied reports that the problems had led to delays in prisoners being released from custody.
Read more about MoJ and IT
Content Continues Below

Download this free guide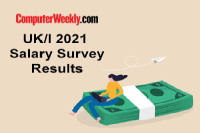 2021 UKI Salary Survey - Diversity Infographic
We take a look at our 2021 Salary Survey results from over 300 respondents who work in the UKI IT sector. We will be breaking down which job functions get paid what, what areas of IT companies will be investing in in 2021, the current diversity landscape residing in the UK tech sector and how the pandemic has effected IT staff.