thodonal - stock.adobe.com
BigCommerce migrates 60,000 merchants from IBM and AWS to Google Cloud Platform
E-commerce platform provider BigCommerce has swapped out IBM and AWS for the Google Cloud Platform to help its users give their customers a faster, more responsive online shopping experience
Google is continuing to build out its base of retail customers, adding online merchant payment service BigCommerce to its list of reference users.
The cloud-based e-commerce platform provider claims to have spent the past three months moving the 60,000 merchants that use its services to the Google Cloud Platform (GCP), and expects to complete the process by February 2019.
Previously, most of the firm's cloud hosting requirements were catered for by IBM Softlayer, but it also used Amazon Web Services (AWS) to provide it with additional compute capacity during peak traffic periods.
Despite this, the firm has decided to eschew both providers in favour of Google on the basis of how strong its network proposition is, the company told Computer Weekly in a statement.
"The decision to move to Google Cloud was driven primarily by our customers, both [in terms] of where they were located and where their customers were located," the statement said.
"Google is the only hosting provider that has its own fibre laid internationally, as well as a network for undersea cables, which is notable because it allows merchants to have a presence as close as possible to their consumers.
"We saw the physical infrastructure behind Google on the network side as a strong competitive differentiator."
According to BigCommerce's website, its customers include shoe retailer Clarks, motor manufacturer Toyota and guitar specialists Gibson, to name a few.
Read more about cloud in the retail sector
Of those that have been migrated over to Google so far, BigCommerce claims they have benefited from an 81% improvement in connection speeds to its SaaS platform, which are now sub-10 milliseconds. This, in turn, has resulted in faster web page loading times and an overall improvement in customer experience.
This is primarily down to how Google's cloud infrastructure is laid out across the globe, claims BigCommerce, as the firm can draw on its 18 datacentre regions and 134 points of presence to process customer data as close to the source as possible.
"BigCommerce has processed more than $21bn in sales and now supports merchants in more than 120 countries," said BigCommerce CTO Brian Dhatt. "As our merchants continue to grow on the platform, we take pride in delivering world-class performance and a scalable hosting solution that works as hard as they do.
"Throughout our sustained growth, BigCommerce has always provided merchants a secure platform with near-perfect uptime and industry-leading performance. The decision to move to Google Cloud further extends our commitment to reliability and scalability, backed by Google Cloud's reputation in security, performance and innovation."

Download this free guide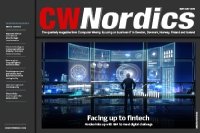 CW Nordics: Nordea links up with IBM to meet fintech challenge
Discover how IBM's €473m managed services contract with Nordea reflects an increasing trend among Nordic banks to outsource more of their IT to help meet the challenge of fintechs.
Read more on Infrastructure-as-a-Service (IaaS)