Starship Technologies
Guide dogs not fazed by self-driving robots
Robotics startup Starship Technologies and charity Guide Dogs are collaborating on a series of tests exploring how service animals interact with robots
Interaction between robots moving through public spaces and guide dogs for the blind and visually impaired will need to be an element of future training for service animals, according to a research project being undertaken by Starship Technologies, which runs an autonomous delivery service using self-driving robots, and UK charity Guide Dogs.
Over the past few months, a series of tests conducted in Milton Keynes – where the service was officially launched in November 2018 – have been exploring the impact of autonomous technology and working animals.
In the UK, guide dogs undergo rigorous training that enables them to steer their human partner through their daily life and, crucially, public spaces.
Among other things, they are trained to walk centrally along pavements, to avoid obstacles, to not turn corners unless told, to stop at kerbs and steps, to judge height and width, to navigate traffic, to guide their human partners across roads, and to find doors, crossings and places that are visited often.

Because of the always-on nature of a working guide dog, interaction between the animals and sighted people is strongly discouraged. However, as autonomous robots and vehicles become a more accepted part of daily life in the UK, the effect of the technology on guide dogs and how the two entities interact will need to be assessed and accounted for.
"Technology is constantly changing our environment and the way we live, so it's vital that Guide Dogs as an organisation leads the way in shaping that environment for people with a vision impairment," said John Welsman, policy lead for travel and mobility at Guide Dogs.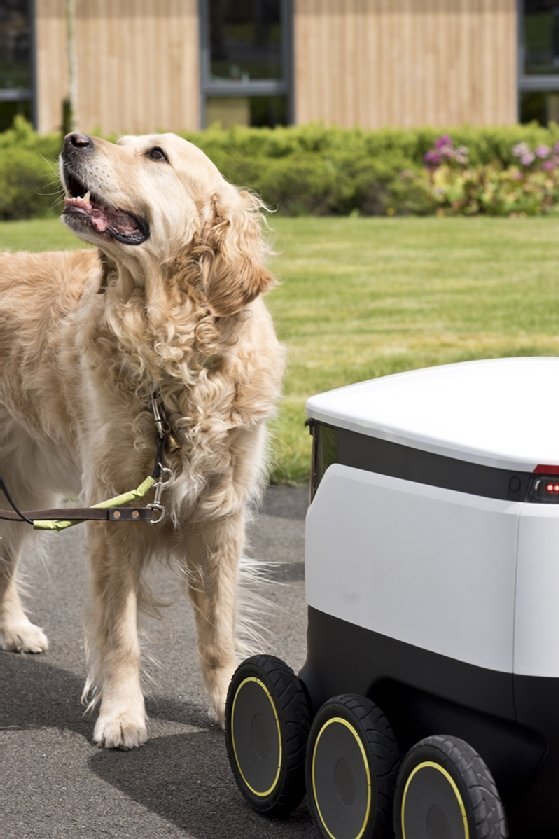 "We want all our guide dog owners and their dogs to feel confident about navigating the streets of the future, so we're really pleased to have the opportunity to work with Starship on this initial study."
"We believe that autonomous delivery can play an important role in supporting all individuals within communities by making people's lives more convenient, including the visually impaired," added Starship CEO Lex Bayer.
"Working seamlessly alongside residents is a top priority for us, and we are continually looking at ways to enhance our services by engaging with organisations such as Guide Dogs to do just this."
The project saw guide dogs accompanied by their human partners and trainers encounter Starship's autonomous delivery robots in live scenarios, including meeting from the front and rear, overtaking one another, and heading towards one another at a pedestrian crossing.
During the tests, all of the dogs reacted appropriately and calmly to the robots, with most stopping before the robot approached, and no adverse reactions were recorded. This is in-line with data Starship already holds on how regular dogs react to its robots.
Helpfully, this would seem to suggest that Guide Dogs could very easily adapt its training processes by teaching working dogs to treat the robots in the same manner as any static obstacle they may encounter on the pavement.
However, this would require further testing, and the project will now be expanded to allow more extensive research. This will also aim to discern the effect robots will have on people with a spectrum of visual impairments, not just guide dog users.
Read more about IT for the disabled community
AI for people with disabilities is making a meaningful difference in their ability to navigate the world and participate in all the activities of daily life.
Essential Accessibility is on a mission to make online services more friendly to disabled people through a mix of assistive technology and consultancy.
Orthotic and prosthetic services business Hanger is trialling five connected prosthetic limbs with support from AT&T's Foundry innovation lab.