Starship Technologies
Robotic delivery service hits the streets of Milton Keynes
Following extensive testing and a limited commercial roll-out in campus enterprise environments, Estonian robotics firm Starship Technologies is launching a direct-to-consumer robot delivery service in Milton Keynes
Robotic delivery service pioneer Starship Technologies has commercially launched its offering in Milton Keynes, enabling residents of the city to have parcels delivered to their homes or places of work according to their own schedules.
Founded four years ago by Ahti Heinla and Janus Friis – two of the original founders of Skype – the Estonian startup has been testing its robots in Greenwich, south London, as part of the borough's ongoing smart city technology trials, and on the Mountain View campus of software firm Intuit, where its robots act as a lunch delivery service to deskbound developers.
It began work on its full-scale commercial launch earlier in 2018, with the aim of having 1,000 robots in the wild by Christmas, and has now settled on Milton Keynes, itself a smart city development hub, as the location for its first UK commercial service.
Starship's service specifically aims to address some of the most frequent complaints that bedevil conventional parcel delivery firms such as Yodel. These include delayed deliveries, inability to schedule deliveries at a convenient time for the customer and, in some extreme cases, underpaid drivers under pressure to meet unrealistic targets faking missed deliveries.
According to data from the IMRG MetaPack Delivery Index, the number of late deliveries across all service types has doubled since 2016, while Citizens Advice claims that people spend an average of two-and-a-half hours sorting out problems each time there is an issue with their delivery.
Starship ducks these problems by allowing customers to use the address of its local facility as their delivery address on sites such as Amazon or Asos. Once their parcel has arrived there, they can schedule delivery to their home address – or any alternative address they like, such as their workplace – through an Android or iOS app according to their plans for the day. Users can also track their assigned robot delivery boy in real time through the app.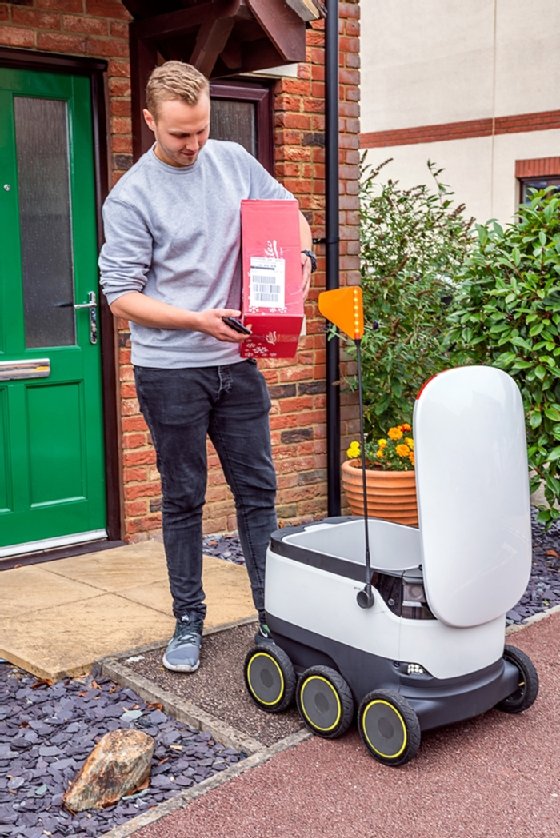 "Today, more than ever, people lead busy and diverse lives. The hassle of needing to rearrange your life for a delivery will become a thing of the past. No more having to switch your working-from-home day, reschedule meetings, visit a locker, drive to a sorting office or contact a courier all because of a missed delivery," said Starship CEO Lex Bayer.
"We're excited that, thanks to our technology, local communities across Milton Keynes will never miss a home delivery again," he added.
Last-mile delivery is proving to be a fast-growing and popular application for automation through internet of things (IoT)-enabled robotics, in part because the total global market for delivery services was estimated to be worth at least €70bn (£62bn) in 2016, according to a McKinsey report, and numerous other trials are taking place.
In the US, startup Nuro is working with American supermarket chain Kroger to test road-going autonomous delivery robots – Starship's version sticks to suburban pavements for now – in Scottsdale, Arizona, with $91m of funding behind it. Another company, Savioke, is collaborating with US hoteliers to use robots to deliver room service orders, and claims it has hit challenges with drunken guests "robotnapping" its workers.
In Europe, Norwegian postal service Posten Norge has teamed up with Oslo-based startup Buddy Mobility for a government-funded trial of postal robots in the town of Kongsberg.
The Posten Norge Mail Robot (PNMR) uses technology initially developed for electric cars. It moves at a top speed of around 4mph and is currently capable of making around 100 deliveries a day in suburban environments. It has not yet been trialled in denser urban areas.
Posten Norge hopes the PNMR will help it offset declining revenues from traditional mail delivery by cutting its operational costs.