kirill_makarov - stock.adobe.com
Ellison slates AWS Aurora as Oracle posts flat second quarter
Oracle was late to the cloud, but CTO Larry Ellison is adamant that no one will swap out Oracle for Amazon
Oracle has reported no change in overall revenue for the second quarter of its 2019 fiscal year, reporting revenue of $9.6bn.
Revenue for cloud services, licence support, cloud licence and on-premise licence revenues grew by 1% to $7.9bn, of which $6.6bn came from the cloud licensing business, with $1.2bn coming from the on-premise side.

Download this free guide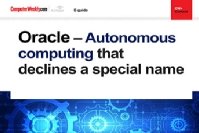 Oracle - Autonomous computing that declines a special name
Follow Oracle's twin paths to adding AI and delivering software over the cloud – on its own platform and infrastructure as a service, from 2017 to 2018. An over-arching theme of Oracle's case regarding its infusion of machine learning and its declared re-architecting of its cloud delivery has been security, security, security.
In a transcript of the earnings call posted on the Seeking Alpha financial blogging site, Oracle CTO Larry Ellison described Amazon as "old open source technology". He said: "In terms of technology, there is no way a normal person would move from an Oracle database to an Amazon database. It's just incredibly expensive and complicated and you've got to be willing to give up tons of reliability, tons of security and tons of performance to go ahead and do it.
"We have a huge technology advantage. Amazon Aurora is just MySQL open source, and Amazon Redshift is also just a borrowed open source system. These are very old systems. Amazon took open source databases and gave them an Amazon name and put them on the Amazon Cloud."
Ellison added: "The Oracle autonomous database lowers costs by eliminating human labour and increases reliability by eliminating human error. And Oracle is the only database that automatically patches and upgrades itself while running."
Oracle CEO Mark Hurd also discussed the Oracle database's technical advantage, particularly its autonomous database management option. Responding to a question on the database, Hurd said: "We haven't had a quarter where database licence and support didn't ever grow. And the options – just to follow up a little bit of colour – the autonomous options actually grew the fastest of the group of options."
Commenting on the company's enterprise resource planning (ERP) strategy, Hurd, said: "With nearly 6,000 Fusion ERP customers and over 16,000 NetSuite ERP customers, Oracle is the clear leader in cloud ERP. ERP has always been the largest segment of the enterprise applications business, so we have lots of room to grow as customers migrate from their traditional on-premise ERP to the Oracle Fusion ERP cloud."
Read more about Oracle autonomous database
Read more on Database management