ldprod - stock.adobe.com
Oracle first-quarter 2018-19 results show weak growth
Oracle's first-quarter results for 2018-19 reveal $9.2bn revenue and 1% growth, with co-CEO Mark Hurd calling out "spectacular growth" for the NetSuite cloud ERP for SMEs business
Oracle has declared $9.2bn in first-quarter revenues, up slightly, by 1%, on the equivalent quarter last year.
Bundling on-premise licence revenue with cloud licence and services support revenue, the supplier reported $7.5bn in sales for that tranche.
Oracle stopped breaking out its cloud numbers in the fourth quarter of its 2017-18 fiscal year. This prompted financial analyst accusations of an attempt to obfuscate its cloud performance, which the supplier rejected.
For the first quarter of the company's 2018-19 fiscal year, GAAP (generally accepted accounting principles) operating profit was reported to be up 1% to $2.8bn, an operating margin of 30%.
Co-CEO Safra Catz said in a statement: "We are off to an excellent start, with Q1 non-GAAP earnings per share growing 19% in constant currency."
Fellow CEO Mark Hurd said: "The vast majority of ERP [enterprise resource planning] applications running in the cloud are either Oracle Fusion or Oracle NetSuite systems.
"In the first quarter, we increased our market share as customers continued to buy Oracle Fusion ERP to replace their existing SAP and Workday ERP systems. The Oracle Fusion ERP customer count is now nearly 5,500, while the NetSuite ERP customer count is over 15,000. Virtually every analyst ranks Oracle as the market leader in cloud ERP."
And Oracle founder and CTO Larry Ellison said, in his customary swipe at Amazon Web Services: "The Oracle Autonomous Database is now available on our second-generation, highly secure 'bare-metal' cloud infrastructure. Oracle's Autonomous Database is faster, easier to use, more reliable, more secure and much lower cost than Amazon's databases.
"And Oracle is the only database that can automatically patch itself while running to protect your data from data theft. These are just some of the reasons why Amazon uses the Oracle database to run its business."
Read more on enterprise IT results
In a financial analyst call, transcribed by news service SeekingAlpha, Catz added: "Total cloud revenues grew in all regions and in terms of product categories, ERP grew in the 30% plus, verticals grew in the 40% plus and public cloud, PaaS [platform as a service] and IaaS [infrastructure as a service] grew in the 20% plus."
Hurd added that the NetSuite business – acquired in 2016 – did exceptionally well, in his view. "NetSuite ERP had a spectacular quarter," he said. "Revenue – as I think we've mentioned through a previous call – the momentum we've been seeing in NetSuite. We were up 26% in revenue, and bookings were almost up 40%, 39% in the quarter."
Ellison added: "While people will go to the Amazon cloud and buy whatever is there as part of Amazon infrastructure, anyone who's actually shopping for the best database, in terms of reliability, in terms of ease of use, in terms of lowest cost, they're all going to take Oracle."
Content Continues Below

Download this free guide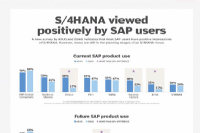 Infographic: S/4HANA viewed positively by SAP Users
SAP has recognised that customers will face challenges and costs when they upgrade to S/4 Hana. It has set out a roadmap to simplify integration, in a bid to lower the transition cost of moving from ECC to the S/4 platform. This infographic shows why most SAP users have positive impressions of SAP S/4Hana.