offfstock - Fotolia
Top 10 ASEAN stories of 2018
Organisations across Southeast Asia have been doubling down on efforts to take the lead in digital transformation initiatives
Contrary to perception that the Association of Southeast Asian Nations (ASEAN) is at least a couple of years behind the US and Europe in adopting and developing cutting-edge technologies, the region has been a hotbed of innovation, going by the region's most-read Computer Weekly stories in 2018.
From leveraging cloud-native technologies in Thailand to the Singapore government's bold decision to move most of its systems to the cloud, organisations across the region have been doubling down on efforts to take the lead in digital transformation initiatives.
In this review of the top Computer Weekly articles focused on IT in ASEAN, we look at Ascend Money's adoption of OpenShift, Go-Jek's experience with the cloud and Singapore's approach to the internet-of-things, among other developments.
Besides implementing Red Hat's OpenShift application platform, Ascend Money adopted an open source governance model to keep IT teams aligned with business goals.
Avoiding supplier lock-in, driving open standards and tapping modular platforms are part of the approach that the Singapore government has taken in implementing the internet of things (IoT) in the city-state.
Content Continues Below

Download this free guide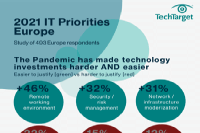 IT Priority Budgets 2021 Infographic
After surveying near 500 European IT sector professionals, the jury is out on what companies across the continent will be spending on in 2021. We dive into what spend will be easier to justify, if budgets for IT companies are on the rise or fall and what the 2021 project rankings are for most in the new year. Download this PDF infographic to find out what the results showed.
Read more on Artificial intelligence, automation and robotics