Computer Weekly Buyer's Guide features list 2019
Here is our 2019 schedule of up-and-coming in-depth articles that will cover carefully selected topics to help IT leaders select the right technology for their organisation
Computer Weekly Buyer's Guides map the IT buying cycle of our readership onto relevant editorial that will inform and educate readers and help them in making the right buying decision.

Download this free guide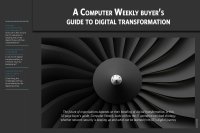 Computer Weekly's buyer's guide to digital transformation
Download this 14 page buyer's guide to discover how the IT operation can lead strategy, whether network security is keeping up and what can be learned from GE's digital journey.
On a three-week cycle, the publication runs a series of articles focused on a particular category of software/hardware/IT service. Articles appear in the features section of the Computer Weekly ezine, which can be downloaded as a PDF or viewed as an SEO-optimised Buyer's Guide page on the Computer Weekly website.
The Buyer's Guide PDF downloads point readers to the online Buyer's Guide, where they will be able to access all the articles in one place, along with additional content, such as blog posts and related articles.
The editorial team updates the Buyer's Guide schedule on a quarterly basis to ensure the chosen technologies are topical and to respond to short-term commercial opportunities.
Buyer's Guides comprise three separate features, which combine to become a standalone piece of evergreen content that readers can refer back to.
Each part includes a written article, plus relevant background material, as well as exclusive online-only multimedia content and infographics.
Format of Computer Weekly Buyer's Guides
Market overview
This is an introduction to the topic covered in the Buyer's Guide. The article will examine the nature of a given software/hardware/IT services product category, look at where it fits in the business, why users need it and which companies sell products in this category.
Analyst perspective
Here, Computer Weekly invites leading IT analysts to submit relevant research that can help readers narrow down product choices with a shortlist of products they may wish to investigate further.
Case study
At this stage in the buying cycle, the reader has a shortlist and may have given his/her technical people a brief to research the products in more detail, such as by following up customer references from the supplier. Computer Weekly supports this research with an in-depth case study, selected for its uniqueness, which illustrates best practices, technical and business drivers, lessons learnt and future plans of a successful IT project using one of the products shortlisted.
Please email Cliff Saran for further details.
The proposed schedule for H1 2019 is as follows:
Perimeterless network security
Jan 9 to Jan 29
In this series of articles we will explore how containerisation and software defined networking combined with end-to-end encryption is enabling businesses to reduce the attack surface of applications and provide and encapsulate corporate data.
Deep Learning
Jan 30 to Feb 19
We look at how organisations are using readily available software libraries, tools and cloud infrastructure and platforms to develop deep learning models.
Asset management for Hybrid IT
Feb 20 to 12 Mar
Organisations are putting workloads in the cloud and making use of software as a service and public cloud platforms and infrastructure to compliment private cloud and on on-premise workloads. A new breed tof tools is emerging to help enterprises keep track of where everything is and to ensure the right services and licences are deployed.
Threat Management
Mar 13 to Apr 9
Corporate networks are under constant attack and with headlines screaming about the latest massive data breach, it would appear IT security is struggling the stem of security breaches. We look at the approaches CISOs are taking to keep the hackers out.
BI & Analytics
Apr 10 to Apr 30
The ability to access data from back-end systems of record is revolutionising how organisations make decisions. We look at how companies are making use of advanced data processing to streamline end-to-end business processes.
Optimising storage
May 1 to May 21
There is a growing need to put data closer and closer to where it is being consumed.This is leading to a disruption of traditional hierarchical storage architectures. One of the popular options is hyper-converged infrastructure, which puts compute and storage into hardware nodes that can be scaled into clusters to run potentially thousands of virtual servers. This cost-effective and easy-to-manage datacentre hardware format is proving an attractive alternative to the traditional server and storage architecture for SMEs and enterprise users.
Evergreen IT
May 22 to Jun 11
Windows 10, Apple and Android devices and browser software tend to update automatically, which means the device should always have the latest software and patch releases. This change how corporate IT manages end user devices and the approaches IT departments take to minimise disruption if an update causes stability issues.
Multi-cloud
Jun 12 to Jul 2
As public cloud adoption matures IT departments are finding that their public cloud needs cannot be met by a single provider. A number of software companies have released tools that help business identify where best to run particular workloads.
Read more on Managing IT and business issues