Zopa gains banking licence and prepares launch
Peer-to-peer lending pioneer Zopa is turning its attention to retail banking in the UK, with plans to offer savings, credit and money management products
Peer-to-peer (P2P) lending platform Zopa has received a UK banking licence and will launch a digital bank to run alongside its current business.
Two years ago, Zopa announced its intention to become a digital bank when it applied for a banking licence in the UK.
Zopa is already an established financial technology (fintech) brand, being the first P2P lending platform, set up in 2004. These platforms bring together people or organisations that want to lend money with those that want to borrow.
It will start introducing banking products next year. These will include savings products, a credit card and a money management app. The company will use its own technology, which will include a billing engine and an open banking hub.
In preparation for the new bank, Zopa has invested in building a team of developers, based in London and Barcelona. "From then until now, the teams have worked tirelessly to create systems that are purposely different from traditional banks," said a Zopa statement.
Zopa plans to apply its customer-focused business approach to retail banking after its success in P2P lending.
Zopa CEO Jaidev Janardana said the banking licence was the start of Zopa's retail banking strategy. "When we pioneered the peer-to-peer lending model globally, we did so by listening to customers and creating a better product for them. We will bring the same focus to our banking products – drawing on tech innovation, our values of fairness and transparency, and better customer service to help even more people to feel good about money."
Content Continues Below

Download this free guide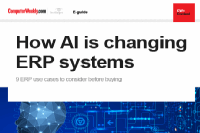 9 ERP use cases you should not miss
The rise of machine learning and AI in the workplace has been well documented over the past few years, and the growth of the machine is unquestionable. However, recent shifts in AI technology are now specifically having an impact on ERP software. Download this e-guide to read more.