alexskopje - Fotolia
Nutanix extends its Beam to private cloud deployments
Hyper-converged infrastructure maker Nutanix pushes its Beam cloud monitoring and management platform into customers' datacentres, but only for Nutanix deployments, for now
Hyper-converged pioneer Nutanix has extended the monitoring and cost optimisation features of its Beam cloud service to customers' private clouds.
For now, that capability will cover only Nutanix deployments, but it will allow customers to monitor and compare a variety of metrics between on-premise deployments and usage in Amazon AWS and Microsoft Azure public clouds.
According to Nutanix product marketing vice-president Greg Smith, the new private cloud capabilities in Beam will allow a "holistic" view across all customer clouds, with performance and cost metrics on a per-cluster basis in Nutanix and across public cloud deployments.
"In the public cloud, the customer can see applications running, cloud services consumed by the user, the cost of consumption, and extrapolate costs over time, with detailed recommendations about what course of action to take," he said.
"The new private cloud capability will allow the customer to monitor efficiency and costs – based on licensing data – for each Nutanix environment and add capacity or performance, if needed."
In both public and private cloud environments, monitoring data is driven by APIs.
For now, the new functionality will only allow customers to add Nutanix-drive private clouds to the environments they monitor but, according to Smith, the long-term plan is to extend that to "all customers' private and public clouds".
Read more on multi-cloud storage
Nutanix's Beam cloud visibility functions were added in May this year and are based on IP gained when the company acquired Minjar earlier in 2018.
Minjar was based in India and developed Botmetric and its SmartAssist cloud management tools.
Multi-cloud strategies are emerging strongly as organisations see the benefits of adding public cloud compute and storage to their private datacentres. Benefits include being able to migrate between locations on cost grounds and to burst workloads to take advantage of cloud capacity.
The move to multi-cloud in storage is manifested in the emergence of file and object storage that can potentially span multiple environments, such as that from Scality, Ctera, Cloudian and Qumulo.
Content Continues Below

Download this free guide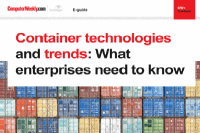 Container technologies and trends: What enterprises need to know
In this e-guide, we take a look at how and why enterprises are tapping into containers to bolster the business agility of their IT infrastructure and application estates, and some of the latest thinking about how best to utilise container technologies.