Paul Fleet - Fotolia
Police tech is 'a complete and utter mess', says Home Affairs Committee
Committee has "serious concerns" about police forces' digital capabilities, interoperability and tech adoption, and urges ministers to take responsibility
The lack of digital capabilities in the UK's police forces has become a "systemic problem", according to the Home Affairs Committee.
In its report Policing for the future, the committee found that most forces are struggling with out-of-date technology and poor digital capabilities.
A lack of digital capability is evident across different fields, including online fraud, cyber security and child sexual abuse, the report found.
The committee said it has "serious concerns about the police service's digital capabilities, including the skills base of officers and staff and the technological solutions available to them".
However, it was impressed with the digital skills of counter-terrorism, and called on the government to create a national digital exploitation centre for serious crime, similar to the National Digital Exploitation Service used by counter-terrorism.
"It would also have the purchasing power to invest in innovative methods of digital forensics and analysis, from which all forces could then benefit," the committee said.
The committee also highlighted a huge lack of interoperability between the systems and databases used by different police forces – and is not the first to do so.
In a report in April 2017, chief inspector of constabulary Thomas Winsor said public safety was being "imperilled" by a lack of functional and interoperable IT used by the police.
The government is establishing a "network code", which will set minimum operating standards for forces when upgrading or buying IT systems, which aims to encourage interoperability. However, police forces do not have to sign up to the code.
"Police forces' investment in and adoption of new technology is, quite frankly, a complete and utter mess," the Home Affairs Committee said, adding that it welcomes policing minister Nick Hurd's admission that extra funding and training are needed for the police service to "meet the challenges of the 21st century".
It said the government should move to a longer-term funding structure to enable the police to "frontload investment in the technology that will enable it to make the best use of its resources and assets".
Read more about police IT
The committee added that the Police Transformation Fund, which recently awarded funding to a range of digital policing projects, "is a piecemeal and ad-hoc method for funding innovation and new technology in policing, and a much more coordinated, long-term approach is required".
But the committee does not think funding is the main issue for police technology. "We believe that the biggest failing in this area is not the level of funding, but rather the complete lack of coordination and leadership on upgrading technology over very many years," it said in the report.
"This is badly letting down police officers, who are struggling to do their jobs effectively with out-of-date technology. It is astonishing that, in 2018, police forces are still struggling to get crucial real-time information from each other, and that officers are facing frustration and delays on a daily basis.
"Stronger national leadership from the Home Office on technology is essential. Ministers need to take ultimate responsibility for the failure of this crucial public service to properly upgrade its technology to deal with the threats of the 21st century."
The committee also highlighted the government's troubled and delayed Emergency Services Network (ESN) programme as "an example of what can happen when national projects are poorly managed".
Content Continues Below

Download this free guide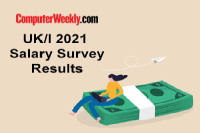 2021 UKI Salary Survey - Salary Infographic
We take a look at our 2021 Salary Survey results from over 300 respondents who work in the UKI IT sector. We will be breaking down which job functions get paid what, what areas of IT companies will be investing in in 2021, the current diversity landscape residing in the UK tech sector and how the pandemic has effected IT staff.
Read more on IT for government and public sector