turbomotion046 - stock.adobe.com
IT departments struggle to balance innovation with everyday IT operations
IT departments are struggling to adapt to an expanding role that includes both adopting innovation initiatives while keeping core systems running effectively, according to the 2018 Insight Intelligent Technology Index
IT is still perceived as a major cost centre for businesses, according to the 2018 Insight Intelligent Technology Index, with some 79% of IT professionals surveyed saying the monitoring of budgets and costs is a top technology concern in their company.
Emma de Sousa, UK managing director and vice-president of marketing for EMEA at Insight, says this makes it difficult for IT departments to adapt to their expanding roles, which now includes both adopting innovation initiatives while simultaneously keeping core systems running effectively.
"Organisations have become acutely aware of the critical role technology now plays in overall business strategy, from enabling a more productive and connected workforce to increasing market share and customer loyalty," she said.
"The Insight Intelligent Technology Index signifies how competing demands on IT are inhibiting their ability to plan and innovate."
The index, which queried 200 IT professionals, also found 79% of IT decision makers felt there were not enough resources to effectively support the demand for innovation, with another 33% saying innovation was expected of them despite existing processes, practices and business operations not evolving in ways that allowed them to do so.
Another 30% cited a lack of clearly defined roles and responsibilities in the organisation as a reason for the lack of innovation.
This coincides with Appian's Future of Global Work survey released earlier this week, which found that despite EMEA enterprises generating 230 internal requests for new business software applications and major feature enhancements every year, only 50% actually succeed – the rest are either being delivered without meeting the business need, or not at all.
Read more about innovation in IT
According to Appian, this failure is largely due to the accumulation of technical debt, whereby companies choose an easy solution over the right solution, which ultimately costs more because of additional rework that is needed.
"While we have been talking about the growing need for IT to both manage daily operations and be a strategic partner for transformation, many companies still have a long way to go when it comes to levelling the divide and creating a competitive advantage through innovation," said de Sousa.
"The index results suggest more businesses are putting an emphasis on managed services to get there. If this happens, the look and feel of IT departments will change dramatically, and businesses will start to see even greater IT-driven business outcomes."
Content Continues Below

Download this free guide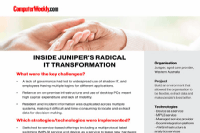 Project Brief: Inside Juniper's radical IT transformation
Western Australian aged care provider Juniper embarked on an aggressive strategy to completely transform its IT operations in just two years. This 1-page brief summarises how this overhaul has helped free up the resources needed to provide better quality of care for residents.