Sergey Nivens - Fotolia
Security Serious Unsung Heroes announced
Awards celebrate the people of the cyber security industry on the front lines of organisations battling cyber threats
The winners of the third annual Security Serious Unsung Heroes Awards have been announced.
The awards, which celebrate people, not products, are part of Security Serious Week, a security industry initiative aimed at raising awareness about cyber security.
Security Serious Week, from 1 to 5 October, coincides with the start of European Cyber Security Awareness Month.
From the best ethical hackers and cyber security's rising stars to the best sales leader and the coveted Godfather/Godmother of Security, the categories recognised individuals and teams working hard to protect the UK from cyber crime.
"It can often be a thankless task working in cyber security, and as an industry, we tend to focus on technology and innovation," said Yvonne Eskenzi, lead organiser of Security Serious Week and co-founder of Eskenzi PR.
"The cyber skills gap is a huge issue for this country and an event like this really shows off what a great industry it is to be a part of and the wonderful people that make it. Our fantastic awards night was all made possible by our wonderful sponsors, so we could throw the best party at no charge to enter or attend the awards."
The Unsung Heroes Awards, started by Eskenzi PR, Smile on Fridays and the IT Security Guru, are supported by sponsors Canon, Crest, CyberArk, Cybereason, Gigamon, Intelisecure, Janrain, Operatix, Publicis Groupe and Mimecast.
Stuart Coulson, business engagement manager for Cyber Security Challenge UK, said: "The event was a great networking opportunity and the awards are a superb way of recognising the hard work that those on the ground are doing in this industry. It is important to have these kinds of awards to inspire others and to continue working towards our wider goal of a bigger, more diverse cyber industry".
Brian Higgins of ISSA-UK said: "Not only was it a great honour to be invited to judge the Unsung Heroes Awards this year, it was purely awesome to see so many truly unsung heroes receive their well-deserved accolades at the ceremony last night.
"From engineers to theatre companies, I can't think of another infosec event that truly celebrates the incredible diversity of cyber talent in our professional community."
The full list of winners:
Apprentice/Rising Star: Millie Coombes, Plymouth University
Runner-up: Katie Burnell, Dtex Systems
Best Cyber Security Sales Leader: Mark Coates, Dtex Systems
Runner-up: Justin Shaw-Gray, Synack
Best Educator: Natalie Coull, Abertay University
Runner-up: Carlos Cid, Royal Holloway University
Best Ethical Hacker/Pentester: Gemma Moore, Cyberis
Best Security Awareness Campaign: Cyberscene – Theatre Royal Haymarket Masterclass Trust/Kidscape/Pureland Foundation
Runner-up: Institution of Civil Engineers – "Shaping a digital world"
Captain Compliance: Simon Onyons, Bank of America Merrill Lynch
CISO Supremo
Winner: Andrew Sands, BBC
Winner: Denis Onuoha, Arqiva
Winner: Lee Barney, Net A Porter
Cyber Writer: Danny Palmer, ZDnet
Runner-up: Tony Morbin, SC Magazine
Data Guardian: James Arden, TalkTalk
Runner-up: Toyin Adelakun, Trusthaus
Fraud Fighter
Winner: Helen Williams, TITAN
Winner: Jennie Williams, TITAN
Godfather/Godmother of Security: Ian Glover, Crest
Runner-up: Charlie McMurdie, PwC
SecDevOps Trailblazer
Winner: Meera Rao, Synopsys
Winner: Allan Yung, Immersive Labs
Security Avengers: The Paranoids (Oath)
Runner-up: City of London Crime Prevention Association
Security Leader/Mentor: Nicola Whiting, Titania
Runner-up: Jitender Arora, Deloitte
Content Continues Below

Download this free guide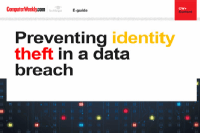 Preventing identity theft in a data breach
In this e-guide, we will explore the links between ransomware attacks, data breaches and identity theft. First, Nicholas Fearn investigates the phenomenon of the double extortion attack, and shares some insider advice on how to stop them, while we'll explore the top five ways data backups can protect against ransomware in the first place.
Read more on Hackers and cybercrime prevention