bluedesign - Fotolia
FCA warns it cannot manage financial crime risks without sharing data with EU
FCA admits it will be unable to manage financial crime effectively if it cannot share data with EU authorities.
The Financial Conduct Authority (FCA) has warned it will not be possible to manage the risk of financial crime unless it continues to share data with the EU.
Sharing data with other European countries is vital when it comes to managing the increasing risk of financial crime.
For example, in the first half of this year, the FCA – via the European transaction reporting exchange mechanism – sent 3.1 billion translation reports to the relevant authorities in other countries.
Charles Randell, chair of the FCA, told the audience at a recent event there is significant collaboration with EU countries on sharing data to stop financial crime, which could be jeopardised after Brexit if no deal on this is reached.
"It is important to stress that we cannot manage the risks of financial crime successfully unless we can share data in this way," he said.
"Data sharing provides both the UK and EU countries with a vital foundation to tackle cross-border market abuse, including insider dealing and cross-market manipulation."
He added that the UK needs to continue to work closely with the EU on financial services regulation and financial crime prevention. "Whatever shape Brexit eventually takes, maintaining and deepening our partnerships with international regulators and law enforcement agencies will remain vital."
Read more about crime in IT
The FCA has set aside millions of pounds to support Brexit-induced challenges.
"Our business plan for the next year explains that we will continue to devote a considerable part of our resources to Brexit," said Randell. "In total, we have identified that we need an EU withdrawal budget of some £30m."
Content Continues Below

Download this free guide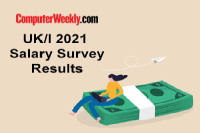 2021 UKI Salary Survey - Salary Infographic
We take a look at our 2021 Salary Survey results from over 300 respondents who work in the UKI IT sector. We will be breaking down which job functions get paid what, what areas of IT companies will be investing in in 2021, the current diversity landscape residing in the UK tech sector and how the pandemic has effected IT staff.