Elliott Brown/Flickr
RBS announces branch closures as part of cancelled project to create challenger bank
The Royal Bank of Scotland has announced more branch closures and job losses as digital transformation continues to transform the sector
The Royal Bank of Scotland has announced another 54 branch closures in England and Wales as a result of its cancelled project to build a challenger bank.
The latest 54 branch closures announced will result in 258 job losses.
This is in addition to the closure of 162 branches and the loss of nearly 800 jobs when it decided, in 2016, to end its plan to launch its Williams & Glyn challenger bank business, which would have used the branches.
An RBS spokesperson said: "As we are no longer launching Williams & Glyn as a challenger bank we now have two branch networks operating in close proximity to each other in England and Wales – NatWest and Royal Bank of Scotland.
"As a result, we have reviewed our overall branch footprint in England and Wales and have made the difficult decision to close 54 Royal Bank of Scotland branches."
RBS cancelled the plan to create the challenger bank from part of its business as a condition of its government bailout, imposed by the European Union (EU). It cited complex IT challenges as a reason for the cancellation.
However, RBS is planning to launch another bank, according to reports in March. it was reported that RBS is planning to establish a digital bank to be run separately from its existing business.
Read more about IT development at RBS
According to Sky News, which broke the story, former RBS chief operating officer Mark Bailie is leading the project. Citing an insider, the report said tens of millions of pounds have been allocated to the new digital platform, which might not result in a new company being created.
Meanwhile, it has emerged that HSBC is launching a new digital bank known internally as Project Iceberg, according to a report by The Telegraph.
The report said HSBC has hired more than 100 people to the secret project.
Traditional banks are under pressure to fight off competition from new entrants to the market in the form of digital startups. But due to their legacy computer systems, it is difficult to be agile enough to keep up with the latest technologies. As a result, banks are starting up standalone digital banks.
Other options for big banks include getting a new core banking platform and migrating everything to it. But as the recent TSB IT meltdown demonstrates, this is not without major risks. Another option is to acquire a new bank with state-of-the-art IT and move everything onto its modern systems.
Content Continues Below

Download this free guide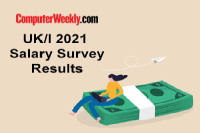 2021 UKI Salary Survey - Salary Infographic
We take a look at our 2021 Salary Survey results from over 300 respondents who work in the UKI IT sector. We will be breaking down which job functions get paid what, what areas of IT companies will be investing in in 2021, the current diversity landscape residing in the UK tech sector and how the pandemic has effected IT staff.