beachboyx10 - stock.adobe.com
Google Cloud Platform enables faster mobile notifications for World Cup fans
Onefootball exclusively used the Boost platform, which has now been officially launched, to offer faster mobile notifications for World Cup viewers
Customer engagement brand Urban Airship claims shifting its real-time message infrastructure off-premise and into the Google Cloud helped it deliver a record-breaking number of push notifications to users during the 2018 Fifa World Cup.
During the tournament, the company worked with design partner and football news platform provider Onefootball to trial its Boost notification delivery service, ahead of it entering general availability.
According to Urban Airship, the set-up enabled it to deliver a record-breaking 400,000 notifications per second to Onefootball users over a period of nearly seven minutes during the World Cup final in July 2018. Furthermore, 98% of fans using the app got notifications within 30 seconds.
Onefootball CEO Lucas von Cranach said notifications play an important role in encouraging its 35 million user base to interact with its app, which is why speedy delivery times are so important.
During the previous two World Cups, 85% of its users have made use of notifications, which Von Cranach said helps enhance the viewing experience for subscribers.
"We've had a very good collaboration with Urban Airship for the past two years, and now Boost has improved the reliability and speed of our notifications. Messages arriving seconds sooner make all the difference to their experience and the value of our platform," he said.
"Notifications are one of our key drivers for app openings. We used Urban Airship's in-app automation engine to instantly reach app users in precise in-session moments to drive greater engagement."
Urban Airship is already in partnership with Times Internet, USA Today, NBCUniversal and News UK and others in delivering breaking news alerts.
Mike Herrick, senior vice-president of product and engineering at Urban Airship, said the company has been relying on the combination of cloud and physical infrastructure since 2012, until the switch over to Google.
"With Google Cloud Platform, we've been able to increase platform reliability, cut production incidents in half and deliver unprecedented performance at an incredible scale – all while dedicating resources to industry-leading innovations like the Boost service," said Herrick.
Read more on the World Cup
Content Continues Below

Download this free guide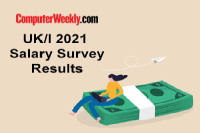 2021 UKI Salary Survey - Salary Infographic
We take a look at our 2021 Salary Survey results from over 300 respondents who work in the UKI IT sector. We will be breaking down which job functions get paid what, what areas of IT companies will be investing in in 2021, the current diversity landscape residing in the UK tech sector and how the pandemic has effected IT staff.
Read more on IT for media and entertainment industry