Romolo Tavani - stock.adobe.com
Oracle accused of 'misleading' investors over source of cloud revenue growth
Database software giant faces claims in the US that it misled investors and analysts over the source of its cloud revenue growth
Oracle stands accused of using "improper sales tactics" to generate revenue growth for its cloud services, in a lawsuit filed against the database software giant on Friday 10 August.
The suit, filed on behalf of the City of Sunrise Fightfighers' Pension Fund against Oracle Corporate, claimed that Oracle had violated aspects of the US Securities Exchange Act by making "false and misleading" accounts about the source of its cloud revenue growth.
These accounts, shared between 10 May 2017 and 19 March 2018, took the form of press releases, US Securities and Exchange Commission (SEC) filings, and statements made during investor and analyst calls, the document stated.
"Throughout the class period, [Oracle] misrepresented the true drivers of the company's cloud revenue growth," the document said.
"In particular, it falsely attributed the company's revenue growth in its cloud segment to a variety of factors and initiatives, including – among other things – Oracle's 'unprecedented level of automation' and cost savings.
"In truth, Oracle drove sales of cloud products using threats and extortive tactics."
As examples, the document claimed the company encouraged customers to swap their on-premise software licences for cloud versions by threatening to carry out licensing audits of their IT estates if they refused to do so.
"The use of such tactics concealed the lack of real demand for Oracle's cloud services, making the growth unsustainable and ultimately driving away customers," the document said.
The alleged practice came to light on 19 March 2018, around the time of Oracle's third-quarter financial results, the document said.
Although the firm banked cloud revenue of $1.6bn and reported double-digit growth in both its software-as-a-service (SaaS) and its combined infrastructure-as-a-service (IaaS) and platform-as-a-service (PaaS) segments, the results failed to live up to analyst expectations, the lawsuit document said.
Read more about Oracle cloud
In fact, revenue growth in its cloud segment slowed in subsequent quarters, falling from 51% in the first quarter to 32% in the third quarter, with financial forecasts suggesting at the time that its fourth-quarter growth could be in the region of 19-23%.
But when the firm published its full-year results in June 2018, it neglected to separate out the revenue contributions of its cloud and on-premise business interests, the document said.
"The truth was revealed on 19 March 2018, when the company disclosed that cloud revenue growth had stagnated and forecast significantly slower sales growth for its cloud business than its competitors," it added.
"Following disclosures, analysts and market commentators connected Oracle's poor financial performance to its improper sales tactics."
Computer Weekly contacted Oracle for a response to the lawsuit's claims, and was told by company spokesperson Deborah Hellinger, "The suit has no merit and Oracle will vigorously defend against these claims."
Content Continues Below

Download this free guide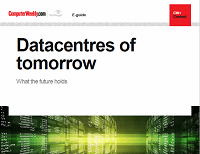 Datacentres of tomorrow: What the future holds
New technologies are widely-tipping to become a mainstay of datacentres in the future. Learn about new and emerging technologies that look set to shake-up the way datacentres are managed, monitored, powered and cooled as well.