Education secretary urges tech industry to transform classrooms
Education secretary Damian Hinds has called upon large technology firms to use tech to tackle some of the biggest issues in schools
Damian Hinds, the UK's education secretary, has urged the technology industry to help schools overcome common issues in the classroom.
Although schools, universities and colleges choose the technology tools best suited to their needs and budgets, they are quite often ill equipped to do so, and could use the help of the industry to make the best choices, as well as roll out technologies more widely, he said.
"I've been fortunate enough to see technology being used in revolutionary ways," said Hinds. "Students are able to explore the rainforest, steer virtual ships or programme robots from their classroom, while teachers are able to access training, share best practice with colleagues and update parents on a pupil's progress without being taken away from their main focus – teaching."
Collaboration between industry, education providers and the government has often been cited as the best way to address the UK's growing skills gap.
He said the UK should build partnerships between government, tech providers and the education sector to solve the problems in the latter.
Hinds also highlighted five main areas where the technology industry could help to promote changes to the education system, including reducing administration processes, improving efficiency and effectiveness of assessments, developing support for teachers and educators so they can learn and develop their skills, supporting access and inclusion to education, and developing digital solutions which promote lifelong learning.
The Department for Education will be working with the Chartered College of Teaching, the British Educational Suppliers Association and other industry leaders over the next few months to build and showcase an online portal with training packages and free software trials for schools.
Read more about technology skills
The majority of employers in the UK believe they will be facing a shortage of skilled technology professionals in the next year.
The Science and Technology Committee has released a report proposing new rules surrounding the immigration of skilled workers once Brexit has come into force.
It will also be working with businesses and schools to ensure the right infrastructure is in place to start adopting new technologies.
Part of the difficulty for teachers when trying to encourage young people into technology careers is that they often don't know what roles in the industry involve, and they already have so much to deal with such as administrative tasks.
By working with the technology industry to implement technology solutions that can save time and support teachers, Hinds said teachers will be able to better focus on their pupils.
In the Spring of 2018, the government announced a programme which would help to train more computing teachers, and the government's Autumn Budget also ensured most schools will have access to ultrafast broadband to make better use of tech.
Caroline Wright, Director General at the British Educational Suppliers Association, said: "I am delighted the Department for Education's plans place teacher training and support at the heart and soul of their future approach to EdTech and recognises that EdTech, when introduced as part of a whole school strategy, has the power to help improve pupil outcomes, save teacher time and reduce workload burdens."
Many believe schools and the curriculum are not fit to cope with the growing digital skills gap in the UK, and the government has put a lot of emphasis over the last year on investing in the education system to boost the nation's tech skills.
Content Continues Below

Download this free guide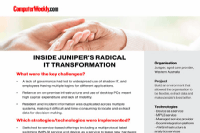 Project Brief: Inside Juniper's radical IT transformation
Western Australian aged care provider Juniper embarked on an aggressive strategy to completely transform its IT operations in just two years. This 1-page brief summarises how this overhaul has helped free up the resources needed to provide better quality of care for residents.
Read more on IT education and training