zhu difeng - stock.adobe.com
CIO interview: Cathal Corcoran, Gatwick Airport
Computer Weekly speaks to Gatwick Airport's CIO about a major network upgrade, which will support future expansion and boost its IT services
Gatwick is the busiest single-runway airport in the world. Passenger volume has grown by 40% over the past eight years and the airport now operates more long-haul routes than ever before.
With the greater capacity of aircraft such as the Airbus A320 and the Boeing Dreamliner, Cathal Corcoran, Gatwick's chief information officer, expects continued growth in passenger numbers. Such growth has a profound effect on IT operations, so he plans to optimise the IT infrastructure to provide growth opportunities.
As CIO, Corcoran says his team manages everything from the snack machines to the control tower at the airport. "I am a CIO, CDO and CTO. Everything with a microprocessor is my problem," he says.
A big part of the IT function at Gatwick is the development of commercial IT services for companies operating out of the airport. As such, the IT organisation at Gatwick supports more than the airport infrastructure – it also provides IT services to the organisations operating onsite, including DHL, the airlines, and an array of food and beverage outlets.
"We are kind of like a smart city," he says. "All entities at the airport buy Wi-Fi and analytics services from me."
Corcoran has been working at Gatwick for two years. He previously held CIO roles at Castrol and BP Global Business Services.
The network running Gatwick
Discussing how IT operates at Gatwick, Corcoran says: "When people think of an airport, they think of the airfield, but we are also a shopping mall. All the technology of a department store like Harrods needs to be applied airside."
The IT challenge is that airports tend to rely on quite old infrastructure, particularly their campus networks. Most UK airports are ex-BAA. As such, although they are privatised, they have similar campus networks.
Corcoran says these networks were designed 15 years ago and deployed almost a decade ago, which means they tend to be quite unstable and need updating to support the growing demand from onsite retail, airport operations and increasing passenger numbers. One of Corcoran's main projects at Gatwick has been to refresh the airport's campus network.
"We are kind of like a smart city. All entities at the airport buy Wi-Fi and analytics services from me"

Cathal Corcoran, Gatwick Airport
"There is a lot of demand for retail technology, which our old network could not handle. Gatwick is also a construction site, with a huge number of construction staff who have 100GB diagrams, which need to be accessed," he says.
The legacy network required a lot of manual intervention. "It couldn't deal with internal demand, let alone third-party demand," says Corcoran. "I've got a reactive IT organisation. It took a lot a hand-holding to keep the network running. We couldn't scale it and we were unable to keep up with demand from the airport."
Risky and ambitious project
Commenting on the challenge of finding a suitable IT services provider to refresh the network, Corcoran says the airport needed to support the legacy network while designing and deploying the new one. "We had an aggressive timeline. The whole project needed to be done in 18 months and we needed someone who could support the new technology," he says.
Given the scale of the project, Corcoran emphasised the need to "do it right, take pain up front and do it once".
Due to the pressures it would put on the project team, Corcoran chose to run the project over just 18 months to ensure the team remained focused. "It is hard to keep people's attention for two to three years," he says.
Read more CIO interviews
Hobbycraft CIO Mike Thomas on the art of digital transformation in retail, the importance of customer experience and getting a good return on investment.
House of Fraser CIO Julian Burnett talks about his role in the business, key achievements and his plans for long-term and lasting digital transformation.
Designing and deploying the network upgrade required people with skills ranging from IT architecture to project management. Gatwick ran a competitive tender, and HPE won the contract to upgrade Gatwick's network. It was measured on project delivery – upgrading the network without issues over the 18 months of the contract.
The $15m deal was implemented by a team of international experts from HPE and Aruba, along with the Gatwick team. "HPE has great kit and can do it end-to-end," says Corcoran.
The deployment involved replacing between 40 and 50 network switches per night. The 24x7 nature of airport operations gave the team a four-hour window to get everything working, including two hours to roll back if it didn't work.
If anything went wrong during the deployment of a new section of the network it would affect "Wave One" – the first of the day's departing flights and the first long-haul arrivals – which could cause baggage issues or problems with security biometric processing. "If anything fails in Wave One, you are set for a bad day at an airport," says Corcoran.
According to Corcoran, 96% of the network transitions went as planned. "But when we did have issues, we could roll back," he adds.
Given the risk, Corcoran needed to set senior management expectations. "With the sheer amount of comms and collaboration that function across the airport, and 200+ entities, we could not replace the network without senior management buy-in," he says.
Set up for IT innovation
The new network sets Gatwick up for the next wave of IT innovation. Corcoran says there are 40 use cases for deploying internet of things (IoT) and machine learning at the airport.
For instance, Gatwick is looking at deploying sensors to measure numerous parameters, such as waste bin levels, occupancy of check-in desks, table availability and even pond water levels. It is also providing free superfast Wi-Fi to passengers, with download speeds exceeding 30Mbps.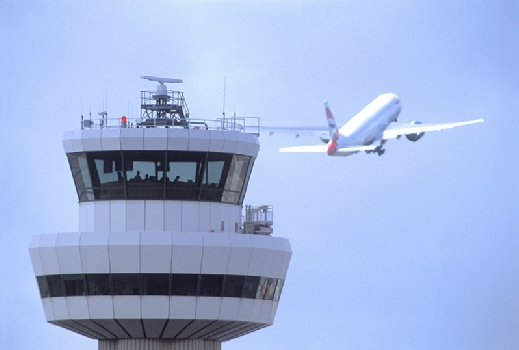 The network also supports the connectivity requirements for hybrid cloud at the airport. "Most organisations operating at Gatwick have Amazon Web Services, HPE cloud or Microsoft Azure. They want flexibility. We also provide colocation facilities here. People can put in a cloud and connect to our network. They can also connect in their own datacentre," says Corcoran.
Through the deployment of the new network, he says the IT organisation at Gatwick has taken a journey from being reactive to being proactive as far as network management goes.
"We are in a better place now. It is more about predictive maintenance. The guys have to spend less time hand-holding the thing – there are fewer issues and our problem resolution times are a fraction of what they used to be," he says.
All of these factors free up time for IT, which is important, given the rate of growth at Gatwick.