WavebreakmediaMicro - Fotolia
Pivot3 Cloud Edition adds backup from hyper-converged to AWS
Hyper-converged infrastructure node maker dips its toes into hybrid cloud operations with Pivot3 Cloud Edition on Amazon Web Services to add cloud backup to HCI
Hyper-converged infrastructure (HCI) maker Pivot3 has added backup to the Amazon Web Services (AWS) cloud as a first step towards marrying HCI and hybrid cloud operations.

Download this free guide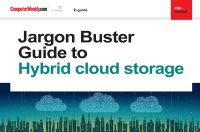 Jargon Buster: Hybrid Cloud
In this Jargon Buster guide we bring you definitions for the key concepts in hybrid cloud storage plus in-depth articles on hybrid cloud file and object storage, how to use the cloud as a storage tier and the key decision points when it comes to private cloud vs hybrid cloud.
Bruce Milne, CMO at Pivot3, said: "It's a natural evolution of the hyper-converged market. Organisations are finding they have multiple clouds in use for various reasons, maybe five or six. We're seeking to reduce the complexity IT teams are faced with."
The launch will see the policy-based management engine in Pivot3 on-site hyper-converged deployments extended to provide a backup target via an Amazon Machine Image in the AWS public cloud, and is called Pivot3 Cloud Edition on AWS.
Policy-based management currently allows resources – compute and storage – to be directed towards applications running in Pivot3 that are prioritised into service levels comprising mission critical, business critical and low priority.
This launch will see backup jobs on Pivot3 clusters targeted at AWS on the same basis. Customers will not be able to run backed up files from the cloud, but will have to recover to Pivot3 on-site first.
The move sees the convergence of a couple of current trends.
On the one hand, we have seen the emergence of hyper-converged backup products, in which hyper-converged nodes deliver specifically backup services. These come from the likes of Commvault, Cohesity and Rubrik.
On the other hand, there has also been a push towards hybrid cloud operations, by hyper-converged product makers – such as Nutanix – and more widely in the emergence of file and object environments that can operate between on- and off-site cloud locations.
Read more on hybrid cloud
These include Qumulo's QF2 file system and Cloudian's Hyperstore 7, which allow file and object storage in hybrid cloud operations, and Microsoft's purchase of Avere, which also has a unified on-premise/cloud file storage capability in its C2N product.
Dan Deppen, products vice-president at Pivot3, said the company plans to add hypervisors and cloud services supported.
"The initial release will be backup to AWS," he said. "The plans is to support more hypervisors – Hyper-V and some others – and to add Microsoft Azure and Google Cloud Platform. Beyond backup and disaster recovery, we will be looking at workload mobility and archiving."
However, Deppen was unable to put any timelines on further additions to hypervisors or cloud services that Pivot3 plans to support. ........................................................................................................... ..............................................................................................................................
Read more on Cloud storage