iconimage - Fotolia
IT services giants face stiff challenge from niche players in IoT market
Traditional broad and large IT services firms are facing competition from niche industry-focused companies in the IoT services market
Large generalist IT service providers will face tough competition in bidding for large, complex internet of things (IoT) projects, as companies look for service partners with understanding of niche business models.
The industries using IoT require support from companies that can combine knowledge of how their businesses operate as well as the IT.
According to a report from CXP arm PAC, looking at the system integration trends for IoT projects, a group of generalists made up of Accenture, Atos, Capgemini and IBM were seen as good in all areas. But it found these companies face competition from industry specialists, such as Bosch and Siemens, as projects require specialist knowledge about particular industries.
The report looked at projects around the digital factory, connected vehicles, smart transport, smart energy and resources, and smart retail and consumer packaged goods. It found companies with expertise in the sectors are now increasing their IT expertise to become IoT partners of choice in certain sectors.
"Comprehensive competence is in very high demand for IoT projects that require in-depth process know-how," it said. "Large industrial companies use this for internal IoT projects, but also for external customer projects."
There are also ecosystems developing around IoT in certain sectors to ensure this comprehensive competency is available, added the report.
It said IoT projects are far more likely to fail due to the lack of business models and siloed structures rather than their technical feasibility.
Read more about IoT services
Specialists are adding IT expertise to their knowledge in certain sectors to give them a strong IoT offering.
"Of particular interest is the general development of industrial companies such as Bosch, Siemens or ABB, which are consistently expanding their existing industry know-how with consulting and IT expertise," said Klaus Holzhauser, global head of digital and IoT at CXP Group. He added that typical IoT users are also becoming strong IoT providers.
Content Continues Below

Download this free guide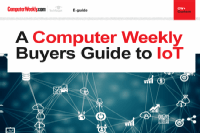 A Computer Weekly Buyers Guide to IoT
In these uncertain times, making solid predictions for the year ahead looks like a definition of a mug's game. While this has been the fuel for the fire for the boom in applications such as video conferencing as used to support remote working, the same really can be said for the internet of things (IoT). Download this E-Guide to find out what enterprises need to know about IoT.