Saktanong - stock.adobe.com
O2 uses The O2 to run 5G mobile network trials
Mobile network operator O2 is to trial a 5G 'experience' at the eponymous London music venue later in 2018
Mobile network operator (MNO) O2 is to set up a 5G test bed at The O2 in North Greenwich later in 2018, promising a so-called "5G experience" for the general public two years ahead of the anticipated start of commercial 5G roll-out.
The trial 5G network, which should be up and running by June 2018, will be deployed at a number of specific locations at the AEG-operated music venue – including the O2 store and the O2 blueroom VIP suite – with coverage to be extended across the whole site by the end of 2020.
At first, the test bed will allow O2 customers only to experience demonstrations of the various consumer use cases that 5G is expected to facilitate, such as virtual and augmented reality (VR and AR) and high-definition live content streaming.
"The arrival of 5G technology, and the range of unprecedented benefits it will bring, will play a key role in keeping our society and the British economy moving for years to come. That's why we are delighted to announce our plans to launch a 5G test bed at The O2 later this year," said O2 CEO Mark Evans.
"At O2, we are obsessive about always delivering for our customers, and this test bed is a further example of our pioneering attitude to putting our customers first and backing the importance of mobile for Britain's future."
The network will be delivered using multi-access edge computing (MEC) – a cloud-based service environment that sits at the network edge to enhance quality of service (QoS) measures such as real-time, low-latency, high-bandwidth network access – configured for eventual virtualisation of core 5G technologies.
Over the next couple of years, O2 plans to refine and enhance the test environment to explore a variety of use cases, and trial unreleased network hardware under live conditions so that users can provide feedback.
It said the initiative was designed to ensure it would be ready to launch a 5G network when spectrum and equipment availability allow.
Read more about progress towards 5G
John Langford, general manager of The O2, said: "We are delighted that our partner O2 has chosen our venue for the first test of this exciting new mobile technology. It is a clear demonstration of their deep commitment to improving the customer and fan experience at The O2 through innovative technology. We're excited to see 5G in action and know it will deliver clear benefits for O2 customers who visit."
London's chief digital officer Theo Blackwell added: "O2's decision to bring 5G technology to one of the world's most iconic entertainment venues reinforces London's status as a global leader in digital innovation and investment.
"I want London to be the world's leading smart city and these 5G trials at The O2 will give visitors an early opportunity to experience the enhanced services that can be supported by 5G digital connectivity. This move by O2 is good news for London and its future."
Content Continues Below

Download this free guide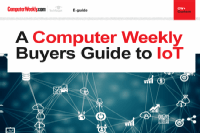 A Computer Weekly Buyers Guide to IoT
In these uncertain times, making solid predictions for the year ahead looks like a definition of a mug's game. While this has been the fuel for the fire for the boom in applications such as video conferencing as used to support remote working, the same really can be said for the internet of things (IoT). Download this E-Guide to find out what enterprises need to know about IoT.