Everywoman forum 2018: The dangers of non-diverse artificial intelligence
Experts at the 2018 Everywoman forum spoke about the pros of role models and cons of an artificially intelligent future designed solely by men
To prevent artificial intelligence (AI) being biased in the future, the teams in charge of developing them need to be more diverse, experts told the audience at the 2018 Everywoman in Technology Forum.
With the day focused on developing the technology of the future, speakers and panel members explained the importance of encouraging more women and minority groups into the technology industry to ensure current stereotypes in the sector are not inherited by the technology it develops.
Yen-Sze Soon, managing director of Accenture, said this is already beginning to happen as AI developed. Assistants have a tendency to be named after women, whereas those developed to assist in factories are given male names.
Content Continues Below

Download this free guide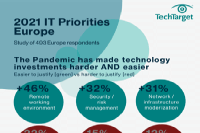 IT Priority Budgets 2021 Infographic
After surveying near 500 European IT sector professionals, the jury is out on what companies across the continent will be spending on in 2021. We dive into what spend will be easier to justify, if budgets for IT companies are on the rise or fall and what the 2021 project rankings are for most in the new year. Download this PDF infographic to find out what the results showed.