IT priorities 2015 – IT budgets on the rise as economy recovers
Almost three-quarters of IT managers in the UK expect their IT budgets to increase or stay the same in 2015
Almost three-quarters of IT managers in the UK expect their IT budgets to increase or stay the same in 2015, according to the Computer Weekly/TechTarget 2015 IT priorities report.
The research found 77% of IT managers in the UK are expecting their budget to stay the same or go up, with 46% expecting an increase (see Chart 1).
This change is likely due to the recovery of the economy in recent years, with IT teams expected to spend on new technologies to drive organisational change.
Employment is the area in which IT teams most expected an increase, with 40% of managers stating their budgets for staff will rise.
Ovum principal analyst Roy Illsley explained that this is, in part, due to organisations aiming to save money and reduce outsourcing, but highlighted this is mainly led by a lack of appropriate skills driving forward internal change.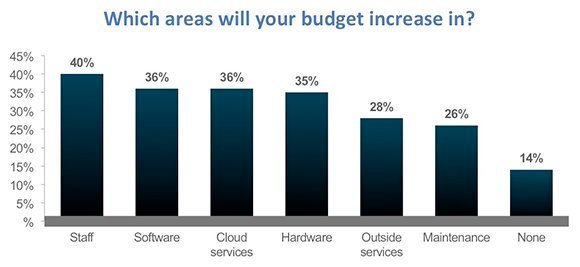 Chart 1
"The other factor increasing IT staff costs is a lack of automation technology in organisations, but to implement this we need to see a culture change," he said.
"As we move to the software-defined datacentre concept, we will see the use of automation increase and staff costs flatten. Due to increased pay rates for the skills in short supply, the overall cost of staff will not see a dramatic fall."
Benchmark your IT priorities for 2015
IT priorities 2015: Global
IT priorities 2015: France
IT priorities 2015: Germany, Austria & Switzerland
Agile methodologies are also becoming popular with IT teams, with 38% claiming they will be adopting agile software development methodologies. Illsley stated this will lead to a change in the employment market.
"As IT becomes more agile and driven by business need – a service-centric approach – then the skills needed will change," said Illsley.
Collaboration is seeing its day as people become more mobile and firms embrace flexibility, and an increase in technology used for optimisation is leading to a reduction in hardware spend.
More than half of respondents said their hardware spend is likely to decrease this year (see Chart 2), continuing the trend from last year when 45% said hardware budget was on the decline.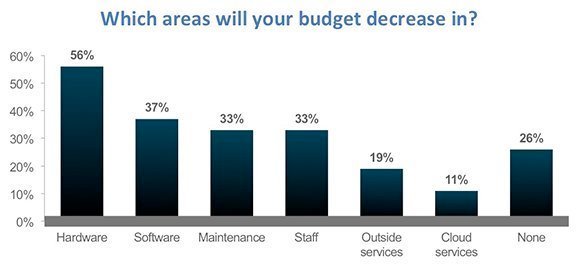 Chart 2
According to Illsley, this signals the second stage of optimisation projects in businesses, as current hardware is used more efficiently and a move to cloud services reduces the need for internal hardware upgrades.
But in some aspects, organisations are lagging behind. Mobility looks set for another big year of expenditure, despite an ongoing push towards mobility in recent years.
Read more about the 2015 global IT priorities
The datacentre will be front and centre of the minds of IT managers in 2015, with many planning infrastructure upgrades or consolidation projects this year.
UK and European IT is set to engage more with advanced information management, finds 2015 IT spending priorities survey.

The Essential Guide to the results of TechTarget's worldwide 2015 IT Priorities Survey.
"The traditional view that users are fixed in a single location and tied to a single endpoint device is becoming the exception rather than the general rule," said Illsley. "Ovum's Enterprise Mobility Survey 2014 clearly identifies this trend, with nearly 60% of users regularly using two or more devices in a typical work day."
Although there was an increase in cloud spend, with 36% claiming their budget will increase in this area in 2015, Illsley warned that some line-of-business processes are using cloud to bypass IT, making it difficult to define exactly what is being spent on technology.
"Organisations need to get to a position where they can know the true spend on IT and the business value the services yield, then they can start to evaluate the best options," he concluded.