BBC starts search for suppliers to replace £2bn Atos outsourcing deal
The BBC is moving away from its single-supplier outsourcing deal to a multi-sourced 'tower' approach for its technology services
The BBC has announced plans to move away from its single-supplier outsourcing deal and introduce a new multi-sourced approach to its technology services.
The broadcaster's existing 10-year, £2bn deal – initially signed with Siemens in 2004, and later transferred to Atos when it acquired Siemens Business Services in 2011 – comes to an end in March 2015.
The new initiative, known as the Aurora Programme, will see suppliers invited to bid for seven contracts, using a "tower model", whereby similar IT functions are grouped together into individual service deals.
"The BBC's 10-year Technology Framework Contract, which delivers the BBC's in-house technology, is due to expire in March 2015, and we are making new arrangements for the key services that fall within its scope, " said a BBC spokesman.
"We are moving from one monolithic contract covering everything to multiple contracts with a number of specialist companies. This allows us to get better value, greater flexibility and access to new technology as it emerges."
A new team within the BBC, likely to include internal and external staff, will be responsible for a Service Integration and Management (SIAM) function that will manage suppliers and integrate the services.
The tower model is becoming popular in the public sector as organisations move away from the large, inflexible, single-supplier outsourcing arrangements set up in the past. The Metropolitan Police and the Department for Energy and Climate Change have announced similar strategies.
"This new tower model is the best approach to ensure the services are provided in a way that offers maximum value for licence-fee payers," said the BBC spokesman.
The corporation hopes the new approach will deliver three key benefits:
Increased control over how services are performing and the ability to act quickly to improve them.
Working with specialist suppliers for specific services rather than one for all services.
Greater flexibility and access to new technology as it emerges.
The existing deal with Atos will move to the new arrangements between 2015 and 2017, with the first contracts due to be put out to tender later this year. The switchover is due to be completed by March 2017.
The BBC expects to spend up to £285m with Atos during that two-year transitional period, but that figure is likely to reduce depending on timings of the new contracts being set up.
The seven contracts (see diagram below) will cover a cross-functional technology service desk, plus six specialist deals for end-user computing; connectivity services; hosting platforms and services; business systems; production and broadcast services; and distribution services.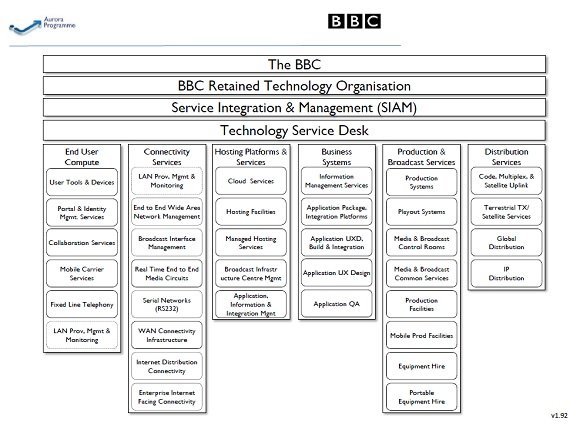 The BBC has already talked to 35 suppliers of IT and broadcast services to define a tower model that will fit with what the market is able to deliver.
Aurora covers IT services that are provided by Atos under the existing Technology Framework Contract, plus services from other suppliers as well as some in-house.
"The SIAM service layer will integrate the service management, assurance and commercial management of services delivered within the Tower Model. This will include both BBC-delivered and third-party delivered services," according to the BBC's latest specification document.
The corporation hopes that greater flexibility will also allow faster access to new technologies. The document describing the services covers emerging areas such as bring your own device (BYOD) schemes for user technologies; cloud services and cloud brokerage; platform, infrastructure and storage as service; as well as the latest developments in broadcast technology.
The business systems tower includes services for application design, integration and build – an area that is likely to come under particular focus following the criticisms faced by the BBC for its failed £100m Digital Media Initiative (DMI).
DMI was originally conceived to be delivered by Siemens, but was later brought in house. A recent National Audit Office report and a subsequent investigation by the Public Accounts Committee revealed disagreements between BBC IT management and business users about requirements and delivery timescales, which contributed to the project being scrapped.