Men and women disagree on reasons why IT is less attractive to women
Mortimer Spinks and Computer Weekly survey finds men and women disagree on why IT is a less attractive career choice for females
Men and women are in disagreement over the reasons why females may find a career in technology less attractive than men, according to new research from Mortimer Spinks.
Conducted with Computer Weekly, the Women in Technology survey represents the views of 512 experienced technology professionals across the UK, of which 199 were female and 313 were male.
According to the survey, nine out ten (86%) female technology and IT experts would recommend the sector as a career choice to another female.
However, three-quarters of women feel careers in technology are less attractive to female recruits because of concerns about the "macho" nature of technology teams and fear of being the only woman in a male-dominated department.
Over half (58%) of women said the male-dominated culture of IT teams turns potential women recruits off of working within the sector. In addition, 52% said this is due to concerns about being the only female in the department.
Nine out of ten female technology experts would recommend the IT sector as a career choice to another female
In contrast, men see the geeky image that is associated with IT jobs as the biggest reason why women would find a career in technology less attractive than a man might.
Some 61% of men felt this was the main reason, whereas women saw this as a significantly less important factor, ranking it only fourth in a list of eight possible reasons (see Figure 1).
Sheila Flavell, chief operating officer at the FDM Group, and the "Leader of the year" winner at the recent Cisco everywoman in technology awards, said: "As a woman in IT, I understand that entering such a male-dominated environment can be daunting, but when I started it soon became clear that there is a supportive network for women in the industry that other sectors don't offer."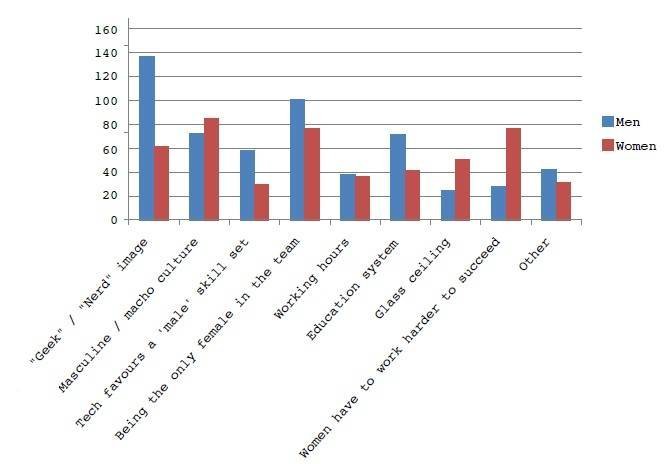 Figure 1
Harry Gooding, head of client engagement at Mortimer Spinks, said: "We are caught in a catch-22 situation – women are not applying for tech roles because there are not enough women already in tech roles. The issue is not with technology careers per se; the survey clearly shows that a career in technology is highly, and equally, rewarding for men and woman alike.
"Much of the problem is image. The technology industry needs to figure out how it is going to make its technology function an attractive place for women to work, and then place this at the top of the agenda."
IT careers enjoyable and rewarding
Both males (92%) and females (90%) working within the technology industry said they enjoy their careers and find their jobs rewarding. However, two out of three (65%) females said they have felt discriminated against in their jobs because of their gender.

Figure 2
According to the survey, within technology teams only one in seven people are female. Both men and women alike want more diversity within the industry (see Figure 2), according to the respondents. Two-thirds of men (68%) and three quarters of women (79%) believe there should be more women within tech teams.
Nevertheless, the reasons why both genders would like to see more females within their technology teams again revealed a difference of opinion (see Figure 3).
Females cited their top three benefits of having more women in their technology department as:
Better departmental communications
Better organised
Better liaison with customers
Men's top three benefits of having more females on their technology team looked slightly different:
More creative/innovative environment
A more fun environment
Better departmental communications
It is imperative to offer taster sessions and learning academies to [young] females to showcase the opportunities available within IT

Sheila Flavell, COO, FDM Group
"The findings in the survey highlight the vital roles women are currently playing within the UK IT industry. Their male counterparts acknowledge a more fun, creative and innovative environment with clearer communications due to having women on their teams," said Flavell.
"With results such as these, I find it shocking that a mere one in seven people in the technology sector is female; we need to do more to attract women," she added.
IT jobs to attract more women in future
Despite these differing views, both genders agreed that a career in technology will become more attractive to women in the future.
Flavell said more needs to be done to encourage this. "The lack of women stems from the ICT school curriculum, as it doesn't prepare students with relevant knowledge of commercial IT programs. This, in turn, filters up through the education system to university education and into the workplace," she said.
"It is therefore imperative to offer taster sessions and learning academies to females at an early age to showcase the exciting and diverse opportunities available within IT."
---
Photo: Hemera/Thinkstock
Read more on IT management skills