James Thew - Fotolia
Why Pegasystems' CEO, Alan Trefler, has learned to think smaller
Pegasystems has made its name supplying CRM, analytics and case management software to the world's largest companies. Now CEO Alan Trefler plans to use cloud computing to broaden Pega's appeal
"When you play ping pong, you don't really strike the ball. You're sort of asking the ball to do something for you. What you are really trying to do is use the subtlety of spin," says the CEO and founder of software company Pegasystems.
Spin is not something that comes naturally to Alan Trefler, who is almost as well known for his skills in table tennis and chess as he is for being a software entrepreneur.
Since he founded the software company in 1983, Pegasystems has kept a low public profile, preferring to make deals by word of mouth and personal contacts than to spend money on marketing and publicity.
Even so, the company has grown rapidly, with a turnover north of £570m, and is delivering software to some of the world's biggest companies, including Cisco, General Motors, Barclays, Pfizer, and General Electric.
The company supplies sophisticated case management tools, which combine analytics technology with business process management (BPM) and customer relationship management (CRM) functions. It is also moving heavily into mobile and social media technology.
Organisations use Pega's technology in a wide range of applications, from recommending the best handset upgrade for a mobile phone company customer, to controlling the refuelling of planes at Heathrow Airport, and for managing transport systems in Australian cities.
Pegasystems' closest competitors include IBM, Software AG, Salesforce.com, Oracle, SAP and Microsoft. But US-based Appian Software is probably Pega's nearest equivalent, according to Forrester analyst Clay Richardson. "Appian is smaller, but I would say it competes on the same level with Pega," he says.
Reliant on sales expertise
To date, Pega has spent its time and energy working directly with the Fortune 500 companies that can afford its – often expensive – products.
Its strategy until now has been to hire skilled sales teams to build direct relationships with senior executives in companies with turnovers of $40m to $1bn.
"We've taken all of our target accounts and mapped all the products that we have ever sold them, and what's left over is white space to us"

Robert Tas, Pegasystems
"It did not do any marketing. Pretty much zero. It hired experienced sales people in specialist areas, with big contact books, and said go off and sell, and that has been very successful," says analyst Neil Ward-Dutton at WMD Advisors.
Once inside a company, Pega's sales teams work hard to convince other parts of the organisation that they also need Pega's technology.
The company has started a project, codenamed "white space", to identify the areas where its existing customers could use Pega's technology but don't, says Robert Tas, Pega's newly appointed chief marketing officer (CMO).
"We've taken all of our target accounts and mapped all the products that we have ever sold them, and what's left over – say Merrill Lynch doesn't use our customer service tools – that's white space to us," he tells Computer Weekly.
A game of two halves
But ping pong, like football, is a game of two halves. Pegasystems has now reached the point where it needs to radically rethink its business if it is to continue to grow its revenues.
And that means developing services that will appeal to smaller companies and, in turn, making Pega tools simpler to use for companies that cannot afford large teams of Pega specialists.
In an exclusive interview with Computer Weekly, Trefler talks about his plans to "open the aperture" to smaller companies.
He is setting his sights on the world's top 3,000 companies. They may not be as wealthy as the Fortune 500, but they are still companies with billions of dollars in turnover and complicated problems to solve.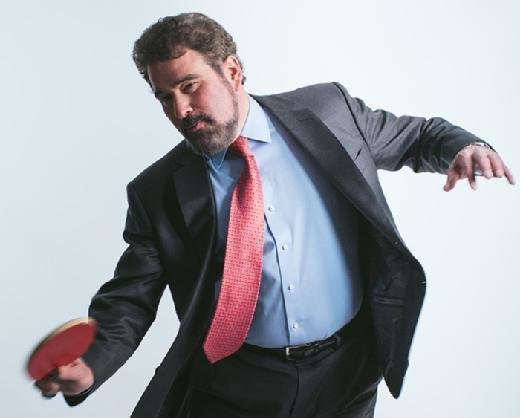 Pegasystems founder Alan Trefler is almost as well known for his skills in table tennis and chess as he is for being a software entrepreneur
"By simplifying our user experience, by building out applications that are much richer, we can now bring that power to companies that are smaller," he says.
Marketing boost
Tas, who joined Pega from JP Morgan Chase last year, is the driving force behind Trefler's plan to raise Pega's profile among smaller companies.
The CMO is making some big changes. He has overseen a redesign of Pega's website, which has made it more business focused rather than technology focused. The site features case study videos with Pega's customers and thought leadership pieces.
Tas has also overseen Pega's first print advertising and social media campaign, "Pega Can", starting in North America, with Europe to follow this year. And the company is experimenting with live video streaming service Periscope and other social media.
"Our web traffic has more than tripled since we introduced those campaigns, and the number of people registering on our site downloading content has gone up by a similar amount," says Trefler.
He concedes the push on marketing is long overdue: "We made a very conscious decision that we wanted to really uplift our energy on the marketing front."
Key Pegasystems customers
Ford Motor Company is using Pega to build a warranty management system for its network of 12,000 dealers worldwide, which promises to save tens of millions of dollars a year in repair costs.
The Royal bank of Scotland is spending over £100m in data analytics technology, from Pega and other suppliers, as it seeks to recreate levels of personal service last seen in the 1970s.
Mobile phone operator Everything Everywhere has claimed a 400% increase in mobile phone deals after rolling out Pega's customer relationship management software.
Cisco is turning to business rules software to help it respond in a more agile way to new market opportunities, changing regulations and business practices.
Moving away from BPM
Part of Pega's rebranding it to position itself as a digital transformation company – distancing itself from its roots as a business process management specialist.
Its competitors are following a similar strategy, according to analyst Ward-Dutton, who says businesses have been left disappointed after the early hype around BPM failed to live up to its promises.
"We are finding that while companies want BPM capability, they have become disillusioned with the whole idea because it was oversold in the past. Many organisations bought into it, but it did not deliver what was promised," he says.
These days, Trefler talks disparagingly about BPM. Look up BPM on Google, and the first definition you get is "beats per minute", he says. And that just about sums it up for him.
"I never really liked the BPM term because it meant too many different things to too many different people, and we're quite happy to trade in that lexicon for really talking about working to make companies digital," he says.
Simplifying Pega to expand its appeal
Building a wider base of customers could be a real challenge for Pega. For over 30 years the company has lived off the reputation of its brand, and its high-level contacts in banking, financial services and the retail industry.
Forrester's Richardson says it will take some effort to educate the next tier of organisations just what Pega is all about. It isn't, after all, an easy technology to understand.
"It is going to have a heavy lift to educate the rest of the market, where this product is coming from, and why it's important," he says.
Pegasystems' three approaches to analytics
Predictive analytics: Maps historical data to predict future trends. Typical business applications include predicting what products might be of most interest to each customer, what sort of advertising might be most effective and which customers might be in danger of moving to a rival supplier.
Adaptive analytics: This approach continually tests the hypotheses used in predictive analytics, and changes the model based on the outcomes. The system will test whether the best customer offer is really better than the second best offer, by regularly substituting each offer and comparing the outcome. Adaptive analytics can also spot new trends in customer behaviour and change the prediction model automatically.
Event-driven analytics: This type of analytics monitors and responds to the behaviour of customers. For example, the technology can issue an alert if a customer types "termination fees" into a search box or posts a negative comment on social media.
Just over four years ago, the company made a strategic decision to make its software easier to use, as part of its strategy to make the technology more accessible to a wider range of companies.
"We hired several dozen people with deep backgrounds in user experience, human factors and design, and we've insinuated them deeply into the teams," says Trefler.
One of the fruits of this investment is an improvement to Pega's core software, known as Pega Express.
It can do everything that Pega 7 can do, but it is designed to make it easy for business specialists to build simple applications quickly, without the in-depth expertise Pega normally requires.
Pega for dummies, as you might call it, attracted huge interest at Pega's customer conference this year. There were queues of IT professionals waiting for their turn with one of the 15 demonstration terminals to try the product, says Tefler. He is not exaggerating.
The software has attracted particular interest from companies in regulated industries, including, banking, finance and life sciences, he says. They are coming under pressure from regulators to replace the spreadsheets used throughout their organisations, with more robust applications.
"A lot of these companies have many applications written by the business, and are now part of the way the business runs, but are not really mature, maintained or backed up even," he says.
For Trefler, Pega Express is a way of tempting companies that might have been wary of the technology into the Pega fold.
"It's not a separate product, it's a set of improvements to our development environment that guide users through the building of cases and processes, the types of things you start to need to create an application," he says.
His hope is that companies will start using the software for simple applications at first, then, as their confidence grows, develop more sophisticated applications.
Cloud computing with a silver lining
Pega's cloud service will play an important role in attracting new customers.
A year ago Trefler hired John Igoe, a well-known proponent of cloud technology, to develop Pega's cloud strategy. Igoe was previously vice-president for technology at Rackspace.
The company has also invested in network operations centres in North America and India. These centres will be staffed around the clock to provide businesses with the ability to tap into Pega's cloud services whenever they need to.
Pega may have some catching up to do, with competitors such as Appian that have been offering cloud services for longer, says Richardson. But there is a definite appetite for the cloud.
"Pega customers we talk to are looking for a model that allows them to consume, over time, what they see as valuable. They are looking to pay as you go, and I think that is what Pega is responding to," he says.
While Pega's on-premise business has been growing at 20% a year, revenue from Pegacloud has doubled over the past 12 months, says Trefler.
"The balance [of our business] is definitely going to move increasingly to the cloud, particularly as more and more large companies accept the cloud," he says.
But Trefler warns that it is a mistake for companies to become dependent on the cloud. It's only a matter of time before there is a major data breach, he says. The Ashley Madison hack serves as a warning.
"What are the buyers going to tell their board of directors then? The thought that you would limit yourself in something as fundamental as where you run your software and where you keep your data seems to me to be a pretty big potential limitation," he says.
Expanding the pool of Pega experts
The third plank of Pega's strategy is to tackle a shortage of skilled Pega specialists, which has often presented an extra hurdle to organisations investing in Pega software.
Businesses can spent a lot of time training people in Pega, only to have them snapped up by other firms desperate to fill gaps in their IT teams.
Trefler created the Pega Academy in 2014 to provide online resources, classroom training and certification for systems integrators to help them train up new Pega specialists to tackle this problem.
He reels off a long list of consulting firms that have built up teams of Pega specialists through this programme. They include Accenture, Ernst & Young and Cognizant.
Wipro has built a Pega campus in India, and smaller companies, such as Virtusa, have also built up specialist teams.
Read more about Pegasystems
At the same time, Pega has steadily wound down its own consulting operations so that it is not seen to be competing directly against its new partners.
"Our software licence revenues have been growing at well over 20% a year and our services business has been in the mid-single digits, in the 5% sort of range. That's evidence that we're looking to support this ecosystem with our partners," he says.
To date, there are more than 15,000 trained and certified Pega specialists, only 650 of whom work at Pega. But Trefler says this is only the start.
"As the business grows, there's going to be a continued need and desire to build this ecosystem out many times more. I'd love to see 100,000 in the ecosystem, up from the 15,000 that exist now," he says.
This strategy is beginning to pay off, with big companies reporting fewer difficulties in finding senior Pega specialists, say industry watchers.
According to analyst group Forrester, Pega has now got one of the best partner networks in business. A Forrester study found that major systems integrators such as Tata, Wipro and Infosys had built larger teams of specialists with Pega than with their other business partners.
"Last year, for example, Pega ran a major training workshop in Hyderabad, where it trained up thousands of their partners and developers in one go," says Forrester's Richardson.
Companies outside the Fortune 500, however, may still find it challenging to train and retain their own Pega specialists.
WMD Advisors' Ward-Dutton says: "What I have been picking up is there is much more in availability of Pega resources. But for big projects, you need really senior experienced Pega people and they are expensive."
Trefler is "no Richard Branson"
There are signs that too Trefler is loosening the reins on the company. He says he no longer meets every new recruit or every new client in person.
He has recently handed responsibility for Pega's future direction to the marketing department, rather than Pega's engineering team, for example.
That is a big step for a man who is hands-on when it comes to technology, and loves nothing better than to discuss the intimate details of software engineering.
Trefler insists he has no desire to be seen as a Richard Branson-type figurehead. "I have no plans to fly Migs or race boats," he says.
In fact, Trefler has brought new people in to work alongside him. Alongside Robert Tas, he has hired Raef Brown from Salesforce.com as chief financial officer, and Anne Warner from Alexion Pharmaceuticals as general counsel.
These additions to the board will be welcomed by analysts, who feel that Pega needs to be seen a less of a one-man company if it is reach the next phase in its growth.
Trefler himself says: "We've moved a long way past where I could sign off with all the hiring or I could meet every client in person, though I do relish those days in some ways."
But with the CEO and founder controlling over half the shares of Pega, Trefler will inevitably find it difficult to pull back completely.
"It's really hard if you are 52% owner. It is hard not to have a loud voice [when] a lot of your value is in the company. Even if you try to have a flatter structure," says Richardson.
Controlled globalisation
There have been concerns that Pega may be too tightly controlled from the US, at a time when over half of Pega's customers are in Europe and Asia.
Trefler, for his part, agrees that the company needs to think globally. Yet he warns that there is a greater danger in the company "balkanising" itself into local firms if the countries are given too much autonomy.
"To my mind, it's not about letting some country go off and do it their way for a year or two – that will make my global customers wonder what's going on," he says.
Control, he says, should be centred around the customer. Pega hires business officers to make sure that contracts comply with local laws, while at the same time keeping service consistent, he says.
"Those business officers have a great deal of latitude in terms of how they frame the deals, but they know they have a responsibility to make sure they talk to each other and that there's a community of them keeping things as if we were one company," he says.
Strategic acquisitions
It is hard to keep Trefler from talking about one of his pet topics – "Frankenstacks".
He has never approved of companies, like IBM, which buy IT companies and bolt their technology together to create an IT platform that looks good on the outside but is made up of a patchwork of software underneath. They are the Mary Shelleys of the software world, he suggests.
"You get all these dead software companies, glued and sewn together, and they don't create a very good experience for their customers," he says.
Trefler is particularly critical of rival BPM specialists that have used acquisitions to grow their revenues. He singles out Tibco, which he says had excellent technical roots, but now seems to have lost its way.
"It didn't really keep up with building an architecture that would enable it to meet emerging client needs. So it bought a bunch of stuff. Now it is struggling because its technology is not well integrated," he says.
Wary of Frankenstacks, Trefler was adamant that Pega had no plans buy any more companies when he last spoke to Computer Weekly, a year and a half ago. Then he snapped up MeshLabs, a text analytics and social media company, and Firefly, a specialist in collaboration technology.
"Both Mesh and Firefly were just great opportunities to bring in some excellent technology and a couple of great people. Both of them were relatively small acquisitions – they were what you describe as pre-revenue," he says.
Pega acquisitions
Chordiant
Pega made its largest acquisition, CRM specialist Chordiant Software, in 2010. Over the past two years, it has re-written the Chordiant software to make it compatible with the Pega Architecture. The deal has helped Pega expand its operations from its traditional markets in financial services to new areas such as medical and telecommunications.
Antenna Software
Bought in October 2013, US-based Antenna Software has given Pega the capability to deploy its technology on mobile devices, including tablets and smartphones. The technology has been renamed Pega Mobile, and plays a key role in Pega's plans for 2015.
Meshlabs Software
Pega bought India-based Meshlabs in May 2014. Meshlabs' social media and text analytics technology has given Pega the capability of monitoring and reacting to comments made on social media, using sophisticated data analytics software.
Firefly
Acquired in June 2014, Pega has used Firefly's collaboration technology to enable businesses to interact with customers on the web and mobile devices.
His plan is to "integrate the DNA" of these companies into Pega, rather than create Frankenstacks. This is the approach Pega took with its biggest acquisition to date, that of CRM specialist Chordiant in 2010.
"We put a tremendous amount of effort in over 18 months to completely rewrite Chordiant in the Pega architecture. So if you go to the Pega technology environment, there's one environment that encompasses both case management processes, rules, analytics," he says.
This time, Trefler is careful not to rule out any more acquisitions. Pega has 1,000 engineering staff, out of a total of 3,000 employees. They are focused, but they can't cover everything. "It would be foolish to not always be looking at both the open-source community and the technical community in general for places to blend in or purchase other technology," he says.
Ideas rock the Pega world
It has been said that Pega is not as strong at innovation as Google and other silicon valley companies because of its "don't rock the boat" culture. But Trefler claims "there is a lot of rocking" going on in Pega.
The Google model of innovation is not all it is cracked up to be, he suggests: "I think the myth that Google staff spend 20% of their time on innovative projects has actually been punctured of late."
"A key element of our culture is that your opinions are not just respected, they're expected"

Alan Trefler, Pegasystems
Trefler says that good ideas mater more than job titles and hierarchy at Pega. "A key element of our culture is that your opinions are not just respected, they're expected. We expect people to have strong opinions about things," he says.
He admits to some "dynamic disagreements" with his employees. "Then it turns out they're right. And I think that's a good sign."
The company encourages innovation through what Trefler describes as "an aggressive programme" of hackathons – mass gatherings of programmers and business specialists.
"We get some of the best ideas for product direction from the weird things. One of the teams in the hackathon got our Pega system running on a Raspberry Pi," he says.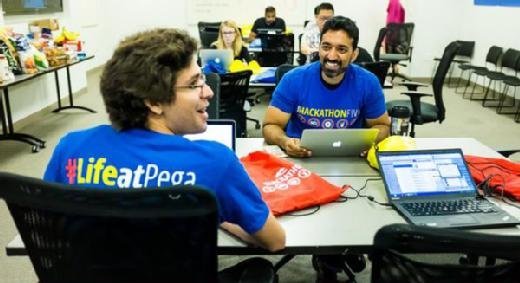 Pegasystems runs hackathons to develop product ideas
Plans for this year
Mobile will be a big part of Pega's strategy this year, as Pega completes the integration of Antenna's mobile software, now branded Pega Mobile.
Mobile technology is key to giving customers the ability to write Pega software that will work on any platform, from desktop computers to tablets and mobile phones.
"We've invested a lot and are continuing to invest to bring the Antenna technology completely into the mainstream, so Pega will be able to show the initial versions of that," he says.
The latest Pega 7 release has a user interface which automatically scales to fit whatever device a person has. It's a real breakthrough, says Trefler, offering a better look and feel, and, for employers, the ability to get people up to speed without as much investment in training.
Pega will build on these capabilities to offer businesses case management, customer relationship and analytics technology that will operate through any sales channel, from high street outlets to web commerce sites and mobile phone applications.
"It is very exciting and really quite unique that we have been able to take a leader in the mobile development space and integrated it so well in Pega technology," he says.
Having this sort of mobile capability is essential if Pega wants to remain credible, says Ward-Dutton. Businesses now expect mobile capabilities, as a matter of course.
"Very often customers ask for it, and want it. They don't always know how to use it, but they want to know it's there and they want to know it's possible. Many have not figured out how to use mobile yet, and are using in simple ways," he says.
Tapping into the internet of things
Trefler believes the internet of things (IoT) offers another key opportunity for Pega.
The IoT is expected to bring significant benefits to areas such as healthcare, energy, transport and buildings. Analyst group Gartner estimates that 26 billion devices will be connected to the internet by 2020 – one for every person then on the planet.
The internet of things is a little bit like mobility in that it's going to become seamlessly integrated into every aspect of life, says Trefler. "It's going to become part of everything."
As the IoT takes off, organisations will need some way of managing their internet-connected devices, and Pega's software can act as an intelligent hub to manage and analyse data from online devices.
For example, Pega is working with GM OnStar in China and North America on a safety system that will automatically call for help if a car is involved in an accident.
If an airbag activates, for example, the car will report the incident into a Pega case management system, which will automatically phone the driver to check they are okay. The system can also alert the police and arrange for a rental car, if necessary.
Pega also sees opportunities in healthcare, from remote monitoring of patients with serious medical conditions to sending people reminders to take their medication.
"We do a lot of work around making sure that the care for people with chronic illnesses like diabetes or heart disease is properly managed and monitored," says Trefler.
On an industrial scale, Pega is working on a project to use drones to remotely inspect pipelines. Product maintenance is another application, offering the potential for devices that alert the manufacturer or an engineer when they develop a fault.
And then there will be real-time selling – delivering advertising and offers to people's mobile phones based on their location and interests.
"I don't think the internet of things is a separate thing. It's just the next step in the evolution of what digital needs to be," says Trefler.
Industry watchers are in no doubt that Pega has a strong opportunity to benefit as the internet of things takes off, but Pega's technology is not quite there yet, says Ward-Dutton. "I don't think it has a product that lends itself to that in an elegant way. It is probably doing some work behind the scenes," he says.
Taking simplicity further
Pega has taken a clever approach with Pega Express by making its software more user friendly without losing any of the sophistication of the technology.
Ultimately, however, Pega may have to grasp the nettle, and make simpler versions of its products. And that means removing features, rather than adding them, particularly in Pega Cloud – a difficult challenge for an engineering company.
"They need to combine the shift to cloud with offering more of a service model, and simplify it, so it's cheap to get started, easy to get started and can demonstrate value very quickly," says Ward-Dutton.
For an engineering company, taking functions out of a product will not come easily. "The temptation for a technology-driven company is that, if you want to release a new version, you create new features and new whizz-bang stuff. If Pega wants to broaden out, it will have to take stuff out of the box," says Ward-Dutton. "It can be done, but it will have to be brutal."
In the future, Pega may well develop a simplified version of its technology, but chief marketing officer Tas says that is not on the agenda right now.
"I don't say no to that in the long run, but today our goal is to deliver that high end, where we think we stand alone with our product differentiation. There are a lot of players in that small field. It's very competitive," he says.
Forrester's Richardson argues that creating a "Pega-lite" will be crucial if Pega is to really appeal to smaller companies, with smaller IT teams.
There may be pressure too for Pega to simplify the way it prices its software. The company looks at multiple factors when considering what to charge its customers, but that can make it difficult to predict costs from one year to the next.
Striking a balance between technology and business
As Pega grows in scale, it is becoming clear that the company will need to become less geeky and more business focused.
Trefler, who loves to talk in great technical depth about the capabilities of Pega, faces the same challenge personally. He has been known, on more than one occasion, to draw diagrams of a "situational layer cake" on napkins over dinner with clients, as he seeks to explain the inner workings of Pega's rules engine.
"When Trefler gets on stage he is very techie, and talks in very technical terms. That scares the hell out of people. It's certainly not a business pitch," says Ward-Dutton.
Pega's chief marketing officer agrees the company needs to become better at communicating with non-technical business people. He says, only half joking, that Trefler didn't mention cakes once in his speech at Pega's annual customer conference this year.
"I don't think I can ever take 'situational layer cake' out of Pega, nor would I want to, but I do want to put the business into Pega," says Tas.
That means talking more to chief marketing officers, chief risk officers, chief sales officers and customer experience people in a language they can understand.
Trefler's plan of action
For Trefler, there are three priorities over the next year.
The first is to focus on delivering the next generation of customer relationship management technology – dubbed CRM Evolved – which uses sophisticated analytics technology to predict customer needs.
The technology will allow businesses to interact with customers through call centres, in stores, through the web, tables and mobile phones – an "omni-channel experience", says Trefler.
Next on his list is the task of raising Pega's profile through better marketing, a process that the CMO has already set about in earnest.
Trefler's final priority is to for Pega to open up its technology to a much wider range of companies through the Pega Cloud. This should see Pega expanding its reach from the Fortune 500 companies, to the top 3,000.
"By this time next year, I hope you will tell me more people know of Pega and that when you look at our website it's not just big companies that are using us for important things, but smaller and mid-sized companies," he says.
Pega's plans in Europe
Nearly half of Pega's business now comes from outside the US and Canada.
Europe and the UK, represents the lions share of Pega's business, accounting for between 35% and 40% of its sales, with the rest coming from Asia-Pacific.
With the Eurozone still struggling with stagnant growth, Pega is positioning its technology here as a way for businesses to simplify and cut costs quickly.
"We're really talking a lot about 'Hey look, we can help you simplify operations. We can help you as we did during the 2008, 2009 downturn,'" says Trefler.
This approach has helped the company win contracts with two of the country's largest mutual insurers, MGEN and MACIF.
"We are also seeing an interest number of the large global banks which are stressed from the need to respond to regulation, the need to do a better job of know your customer and onboarding customers," says Trefler.
This year, Pega plans to use the Pega Cloud, to expand its services to several thousand, large and medium sized companies in Europe.
The company began its Asia operations in Australian and Singapore. It is expanding in Japan, after winning an initial contract with AIG, and has supplied technology to some of the Japan's leading banks and insurers.
"In Asia, I think we just scratched the surface there, and we think there's lots of opportunities in China, and in other places. But we want to be thoughtful and we want to focus our resources," says Robert Tas, Chief Marketing Officer.
In South America, the company has won its biggest contract in its history to date with the Brazilian insurance company Bradesco Seguros.
Eastern Europe is another growing market, but Pega plans to take it slowly and focus on specific markets, says Tas.
Most of the companies Pega works with operate across borders. There are local teams in Germany, France, Spain and Italy, and Russian speakers on the company's payroll.
"When I think of a company like Deutsche Bank, for example, we actually actively work with them in four venues in Germany, in the UK, in North America, and Singapore," says Trefler.