Essential Guide: How APAC firms can ride out the pandemic
Introduction
Even as cities across Asia-Pacific battle with a new wave of Covid-19 infections in recent months, it is worth noting that the region is now in a better position than it was a year ago to cope with the enduring pandemic.
Remote and hybrid work has become more or less the norm for jobs that support it, while investments in digital transformation have grown by leaps and bounds over the past year.
While threat actors are still working hard to exploit security gaps that have been exposed as embattled businesses rush to digitise, there is also greater adoption of good cyber security practices, driven in part by public education and guidance from industry and governments.
In this Essential Guide, we examine the impact of Covid-19 on Asia-Pacific businesses, how they have responded from a technology perspective and important lessons that can be learned as they ready themselves for the post-pandemic world.
1

Digital transformation

-
Accelerating digital transformation
The Asia-Pacific region remains a hotbed for digital transformation initiatives amid the economic uncertainty and ongoing coronavirus outbreak
2

Business continuity

-
Business continuity comes under spotlight
The pandemic has exposed gaping holes in the business continuity plans of organisations across the region

Download this free guide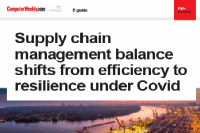 Supply chain management balance shifts from efficiency to resilience under Covid
This e-guide explores these matters, beginning with a comprehensive article that ranges over supply chain management, from a macro level through how trading platforms have been flexed to switch suppliers rapidly down to how robots have been quickly deployed to solve problems of scale.
3

Cloud adoption

-
Cloudifying APAC's businesses
The acceleration of digital transformation across the region has increased the rate of cloud adoption as organisations embrace digital business models and new ways of working
4

Cyber security

-
Ensuing cyber threats
Security professionals are now calibrating their approaches to mitigate the security risks of a growing attack surface brought forth by remote work and growing digitisation of business processes
5

Remote work and collaboration

-
Warming up to new ways of working
Organisations across the region are warming up to remote working and collaboration, but doing so in a safe and secure way remains a challenge