Upcoming wireless standards promise managed WLANs
Learn about two new IEEE standards, 802.11k and 802.11v, which aim to improve wireless the problems over overlapping wireless networks, in this tip.
Two new IEEE standards, 802.11k and 802.11v, aim to improve wireless LAN manageability. Work on both standards began in 2002 and is still in progress.

Download this free guide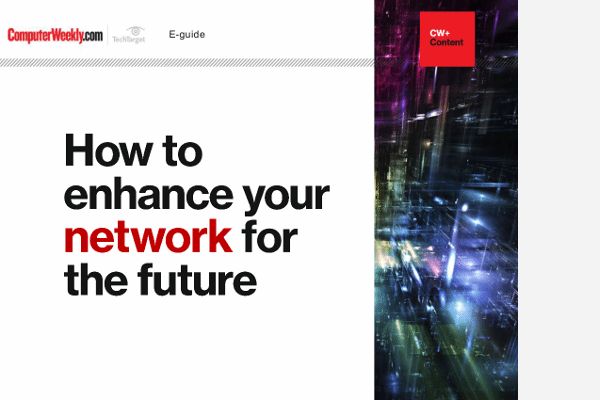 How to enhance your network for the future
Latest on networking developments and directions: NFV, self-optimising networks and IoT enabled smart cities
By submitting your email address, you agree to receive emails regarding relevant topic offers from TechTarget and its partners. You can withdraw your consent at any time. Contact TechTarget at 275 Grove Street, Newton, MA.
You also agree that your personal information may be transferred and processed in the United States, and that you have read and agree to the Terms of Use and the Privacy Policy.

IEEE 802.11k will specify measurements of the surrounding radio frequency environment to be made by wireless components such as access points (APs) and laptops. It will also create methods that components can use to exchange these measurements. Balloting on the standard is currently under way, with final approval expected either late this year or early in March 2008.
IEEE 802.11v will specify ways to utilise the measurements specified by 802.11k to help manage the wireless environment. The goal is to improve WLAN reliability, throughput and quality of service. The 802.11v committee continues to consider additional features. Final acceptance is expected in 2009.
Wireless acceptance creates interference
The widespread deployment of wireless networks has created problems in office buildings, apartments and shopping areas, where multiple wireless networks share the air. The situation is expected to worsen as every coffee shop provides wireless service.
Adding to the problem, pre-standard IEEE 802.11n equipment is now available. IEEE 802.11n signals cover a larger area than earlier standards. It is anticipated that the problem of network overlap will get worse as more and more 802.11n equipment is installed.
Measurements of WLAN and other radio frequency signals
IEEE 802.11k specifies measurements of the wireless LANs active in an area. A wireless station can request that another station measure and report on:
The number of APs within range of that station on either a specified channel or on all channels
The strength of the beacon signal from each AP
The number of frames received during a specified time interval, and report all of the stations from which frames are received, the number of frames received, and the average signal strength from each sender
The level of WLAN activity on each channel
The non-WLAN radio activity on each channel from devices such as portable phones and microwave ovens that can interfere with 802.11 devices
Statistics such as average delay encountered while waiting to send, number of failed transmissions and number of FCS errors detected on received frames
The signal strength of the station making the request measured by the station receiving the request
The location of another station; the request can be answered using the location parameters defined in RFC 3825, including metrics such as latitude and longitude, altitude, or floor number within a building
Statistics on a stream of frames
Neighbouring APs, to prepare a mobile station to transition to another AP
All of these measurements are stored within stations and made available to network management via SNMP.
IEEE 802.11v enables managed WLANs
IEEE 802.11v makes use of the measurements defined by 802.11k to improve throughput, reliability and quality of service.
Currently, prior to 802.11v, a station associates with the AP with the strongest signal. But this AP may be overloaded. 802.11v provides APs with a command to tell a station to connect to a different AP or to one of a group of APs. It can also tell a station that it is about to disassociate from the station and that the station should associate with a different AP.
Problems with interference from portable phones, microwave ovens or other WLAN stations can sometimes be reduced by switching to another channel. Stations can use a new message type to inform an AP about the interference. The AP may then be able to switch to a different channel.
802.11v includes a command that an AP can use to request that a station report on the radio channels that it supports and transmit power range, data rates and supported types of authentication. Another command enables an AP to request a station to report whenever a specified event occurs. For example, to aid in troubleshooting, an AP could request a station report whenever it switches to a different AP and the reason for the change.
Conserve battery power
Other commands help stations conserve power. A station can instruct an AP to increase the interval between broadcast or multicast frames. Stations can use this command to remain in sleep mode for longer periods and thereby conserve battery power more effectively.
Other power-saving features of 802.11v include enabling APs to proxy Address Resolution Protocol (ARP) for stations. Stations can remain asleep rather than having to wake up frequently to respond to ARP requests. APs can also inform stations on how long they can sleep before the AP disassociates from them.
802.11v can reduce the number of beacons and probe requests. An AP that supports multiple basic service set identifiers (SSIDs) can report all of them in a single beacon instead of having to send out a beacon for each. Also, a station can ask in a single probe request for all SSIDs instead of a separate probe request for each.
When 802.11k and 802.11v are both complete, network managers will gain powerful new methods to manage and optimise their networks.
About the author: David B. Jacobs of The Jacobs Group has more than 20 years of networking industry experience. He has managed leading-edge software development projects and consulted to Fortune 500 companies as well as software startups.
Read more on Wireless networking