EMC gives Centera a software refresh
EMC has tweaked the software for its Centera archiving system with an emphasis on handling more pieces of data rather than sheer bulk of information stored.
EMC today released CentraStar 4.0, an upgrade to the Centera operating system. The primary change is the ability for each drive in the content addressed storage (CAS) to store twice as many objects. Now each 500 gigabyte or 750 GB drive can store to 25 million objects, up from 12.5 million in the previous version.

An object is any piece of information stored by Centera. New types of data keep popping up for archiving systems to ingest, driven by applications such as Voice over IP, RFID tags, instant messages, text messages, and video. According to research released this week by IDC (sponsored by EMC), the number of files is increasing at a 50% faster rate than the number of gigabytes stored.

Download this free guide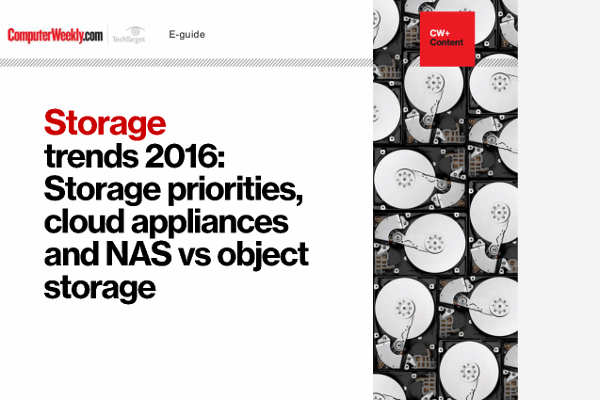 Storage trends 2016: Storage priorities, cloud appliances and NAS vs object storage
Our guide to the latest shifts in the Storage to-do list for IT departments, cloud appliance providers, and what to do with large volumes of unstructured data
By submitting your email address, you agree to receive emails regarding relevant topic offers from TechTarget and its partners. You can withdraw your consent at any time. Contact TechTarget at 275 Grove Street, Newton, MA.
You also agree that your personal information may be transferred and processed in the United States, and that you have read and agree to the Terms of Use and the Privacy Policy.

This is a legitimate improvement, or more accurately, an elimination of a deficiency
Arun Taneja
AnalystTaneja Group
"There are a lot of new types of information being created of a small nature versus large nature," said Steve Spataro, Centera product marketing manager. "We're trying to make it easier to process or retain small objects in whatever fashion you want to do that."

Analyst Arun Taneja of the Taneja Group said CentraStar's new object limit should also relieve bottlenecks customers experienced when bumping up against the old ceiling.

"This is a legitimate improvement, or more accurately, an elimination of a deficiency," Taneja said. "I heard from customers that the number of objects would become a bottleneck. Centera had the capability of ingesting a certain amount of objects per node, so if you had more than that, it became a performance issue. Even though it had enough bandwidth, processing capability and memory, the number of objects became a constriction."

EMC says no major Centera hardware changes planned

Although there have been whispers of a Centera hardware refresh more sweeping than the addition of 750 GB drives and 1U nodes last July, Spataro said no significant changes are coming on the hardware side. "We will continue to remain current with drive technologies," he said. "Is there anything imminent? No."

Still, many expect EMC to polish the archiving system that defined the CAS space when it launched six years ago. No competitors have made much of a dent in EMC's market share, but major players are lined up to take a shot. Hewlett-Packard has refreshed its archiving platform, Sun brought out its long-awaited Honeycomb system, and Hitachi Data System has made archiving a priority since acquiring Centera competitor Archivas a year ago.

"I would say the [Centera] platform is ready for a refresh, that's not atypical in the industry," Taneja said. "We also know that there are certain technologies and certain product platforms that have been around for 15 years."