NetApp says flagging economy could boost its sales
The current economic downturn may actually help boost NetApp's appeal to storage users, according to company officials at its US Analyst Day
A downturn in the economy and diminished storage budgets could help NetApp sell more storage. That's the message delivered by company officials at its US Analyst Day this week.

Download this free guide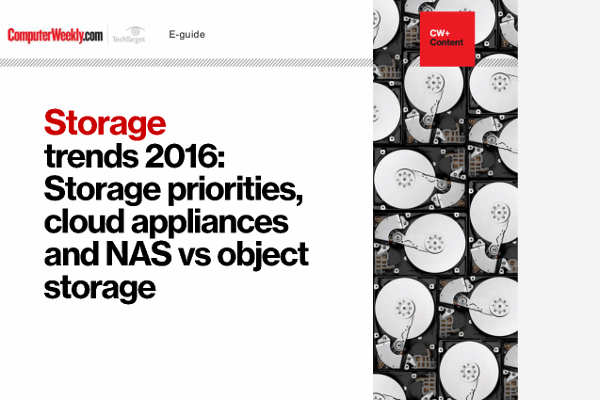 Storage trends 2016: Storage priorities, cloud appliances and NAS vs object storage
Our guide to the latest shifts in the Storage to-do list for IT departments, cloud appliance providers, and what to do with large volumes of unstructured data
By submitting your email address, you agree to receive emails regarding relevant topic offers from TechTarget and its partners. You can withdraw your consent at any time. Contact TechTarget at 275 Grove Street, Newton, MA.
You also agree that your personal information may be transferred and processed in the United States, and that you have read and agree to the Terms of Use and the Privacy Policy.

NetApp executives said economic pressures will drive organisations to rethink their current storage infrastructures and put the focus on improving capacity utilisation and reducing power and cooling to lower operating expenses. CEO Dan Warmenhoven said, "As customers rethink the issue of storage and data management, we think we have the best solutions for them to turn to."
NetApp needs to keep pricing in mind, especially if they're looking to take advantage of an uncertain economic environment. It's a balancing act
Brian Babineau
analystEnterprise Strategy Group
Data centre consolidation, "plays directly into NetApp's strengths," said Tom Georgens, chief operating officer, while founder and executive vice president Dave Hitz added that NetApp storage systems are more efficient than competitors' as a result of NetApp's RAID 6, thin provisioning and data deduplication for primary storage. "These benefits are additive, meaning the savings increase when using multiple features," Hitz said.
NetApp didn't have much product news at Analyst Day. Following its official name change from Network Appliance to NetApp the previous day, executives emphasised that better branding and name recognition can bring it more prospective customers and its technology can help it win them.
Unified OS to combine GX and OnTap 7G
In perhaps the best news of the day for NetApp customers, Georgens hinted that upgrades to the OnTap 7G and GX operating systems are close, with a converged OS that incorporates GX's clustering capability into the main OnTap OS following close behind. Customers have been waiting for clustering features in OnTap since NetApp acquired Spinnaker Networks in 2003.
"Both the next release and the unified release are in tests now," Georgens said. "As far as our development teams are concerned, they have already converged." However, Georgens did not give a time frame for any release dates.
Looking to new technologies for new opportunities
NetApp executives said they expect to pick up customers as storage shops shift to disk-based backup, Ethernet-based storage and server virtualisation. Georgens said corporations are more likely to look beyond their incumbent vendors when they undertake those types of implementations.
Like its main rival EMC, NetApp has focused on replication between disk systems and disk-based backup hardware such as the NearStore VTL and SnapLock archiving system rather than tape backup. It also recently released new features for its FAS systems, such as automatic provisioning and disaster recovery functions, which are aimed at VMware users.
NetApp also leads the iSCSI SAN market, according to the most recent numbers from IDC. NetApp has 19.6% market share, ahead of EMC's 17.4%, according to IDC.
To reach its target growth, NetApp will have to go beyond its traditional strengths and do a better job of competing with large Fibre Channel SAN vendors. One NetApp customer in the US said it is weakest in that area.
"NetApp is very efficient when it comes to CIFS and NFS [NAS protocols], because that's what the system was originally designed for," said Tom Becchetti, storage engineer for a large medical manufacturing company he declined to name because its policy prevents him from representing it in the press. "Fibre Channel for them seems like kind of an afterthought."
Becchetti says NetApp's products lack some of the high-availability features of Fibre Channel SAN competitors he has used in previous jobs. For example, he said he has had to take FAS3000 series filers down to add Fibre Channel cards or update disk-drawer firmware.
He's also unhappy about how NetApp handles snapshots on Fibre Channel LUNs. Becchetti said OnTap requires 100% overhead for those snapshots. He could thin-provision that space, but there is a 12 TB size limit on aggregates and he's worried about running out of space and having to migrate LUNs to a different aggregate as the snapshot volumes fill up.
Enterprise Strategy Group analyst Brian Babineau agrees with NetApp's claim that data centre consolidation will prompt customers to look at more vendors, potentially opening the door for NetApp. "Users looking to alter their data centres are going to automatically bring in other vendors, if only for the price competition," he said. Babineau added that if NetApp competes aggressively, the increased competition could improve prices for users regardless of the vendor they choose.
Data reduction technologies also represent a big growth area, said Babineau, but warned that NetApp should not try to recover capacity revenues with software license fees. "NetApp just needs to keep pricing in mind, as it relates to the benefits of cost-saving technologies, especially if they're looking to take advantage of an uncertain economic environment," he said. "It's a balancing act."
Sales force boost cuts into profits
NetApp is making new investments in its quota-carrying sales force to support its new efforts to compete in the market. Executives declined to specify how much is being spent or how many people will be added, but did forecast diminished operating profits for the first half of 2009 as a result of the investments. Fiscal year 2009, "will be a tale of two halves," according to chief financial officer Steve Gomo, with profits projected to be 11% of revenue for the first half of the year and 16% for the second half.
NetApp forecasted revenue of $3.79 billion (£1.88 billion) to $3.95 billion (£1.96 billion) for fiscal year 2009, which would represent 15% to 20% growth over 2008.
NetApp also revealed plans for another initiative to raise awareness of the company. A new annual user conference, NetApp Accelerate 2009, will be held for the first time on 23 February 2009 in San Francisco.