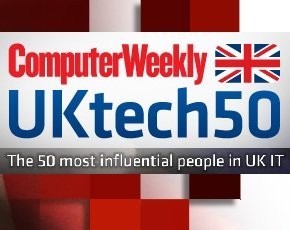 Computer Weekly has announced the third UKtech50, our annual definitive list of the real movers and shakers in UK IT - the CIOs, industry executives, public servants and business leaders driving the role of technology in the UK economy.
Our aim was to once more identify the 50 most influential leaders in UK IT. An expert judging panel, representing every aspect of the IT profession, helped decide the results, along with a reader vote to determine who holds the most influence over the future of the UK IT sector in 2013 – and hence the future of IT professionals across the country.
View the complete coverage of UKtech50 below.
UKtech50 Videos
UKtech50: Dave Ubachs, Procter & Gamble
Dave Ubachs, UK CIO, Procter & Gamble, shares some of the learnings and insights from the inventors of brand management, Procter & Gamble, and traces the CIO route from backroom to boardroom.
UKtech50: Susan Cooklin, Network Rail
Susan Cooklin, CIO of Network Rail, discusses how the company needed to ensure that the IT operation during the London Olympics ran flawlessly during the events while running major technology change projects.
UKtech50: Arumza Rashid, London 2012 Olympic Games
Arumza Rashid, technology sustainability manager, London 2012 Olympic Games, tells us how the London Olympics vowed to be the most sustainable games ever.
UKtech50: Lyn Grobler, BP
Lyn Grobler, VP and CIO IT&S corporate functions, BP, discusses how attracting, retaining and developing female talent is essential for any successful IT organisation.
UKtech50: Bill Beckler, SILK
Bill Beckler, head of innovation at Lastminute.com, tells us how to hire great people.
UKtech50: Christine Ashton, BG Group
Christine Ashton, head of IT strategic development and performance at BG Group, discusses the massive shifts in how organisations use IT in the last few years also impacted the interaction between the technology function and other departments.
UKtech50: Paul Kane, BskyB
Paul Kane, head of product research engineering at BskyB, talks about how Sky approaches innovation from a research perspective, as well as how the company collaborates externally with other organisations to reach its goals.
UKtech50: Victor Newman, SILK
Victor Newman, best-selling author and advisory board member and mentor at Social Innovation Lab Kent (SILK), discusses the importance of innovation in people.
UKtech50: Simon Wardley, CSC Leading Edge Forum
Simon Wardley, researcher at CSC Leading Edge Forum, discusses the fundamentals of change and why business activities evolve.
UKtech50: Paul Coby, John Lewis
Paul Coby, IT director, at John Lewis Partnership, discusses how the retail environment is witnessing a revolution driven by technology, similar to what the airline industry went through nearly a decade ago.
UKtech50: Phil Dixon, Betfair
Phil Dixon, head of research and development at Betfair, talks about how Betfair powers innovation by tapping into the discretionary creativity of its global workforce.
UKtech50: Geoff Mulgan, Nesta
Geoff Mulgan, chief executive of Nesta, discusses how the UK needs a new generation of researchers, inventors, and entrepreneurs to help create an economy fit for the future. In this video, he talks about Nesta's efforts towards that objective.
More from Computer Weekly