sdecoret - stock.adobe.com
UK winners and losers in digital tech
The UK's retail and telecoms companies are among the best in the world at digital technology, but a survey of digital leaders shows there is still room for improvement for many UK firms
The UK has the world's third largest e-commerce market and is under pressure to maintain its competitive position.
While UK firms are progressively investing in digital technology, the rapid expansion and introduction of new technologies and innovation results in a constantly changing and challenging landscape.
To remain competitive, and retain consumer loyalty, companies need to ensure they are ahead of their competitors, both nationally and internationally.
A study of digital leaders worldwide released in November 2018 revealed that there are industries and companies in the UK that excel in digital maturity, and some industries which are underperforming.
The digital leaders study by management and technology consulting firm BearingPoint assessed more than 70 companies across 10 industries, and identified the leading digital players in the UK.
The UK scored in the middle of the rankings – no clear digital leader, but no failure either.
The research scored companies and industries using six digital dimensions – digital marketing, digital product experience, e-commerce, e-customer relationship management, mobile and social media – to measure their digital maturity.
Content Continues Below

Download this free guide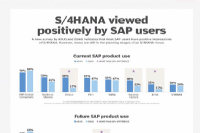 Infographic: S/4HANA viewed positively by SAP Users
SAP has recognised that customers will face challenges and costs when they upgrade to S/4 Hana. It has set out a roadmap to simplify integration, in a bid to lower the transition cost of moving from ECC to the S/4 platform. This infographic shows why most SAP users have positive impressions of SAP S/4Hana.