Maksim Kabakou - Fotolia
Security Think Tank: Burnt out CISOs are a huge cyber risk
Cyber criminals are enjoying a boom during the Covid-19 pandemic, and security teams are working overtime as a result. How can security pros manage their increased workload, safeguard their mental wellbeing, and avoid burnout?
While the extraordinary times in which we find ourselves are creating challenges on many levels, some sectors of society are enjoying a boom.
Cyber criminals are among of the beneficiaries of coronavirus, as the lockdown forces people to adopt often unfamiliar practices, including working from home, that create openings in previously well-protected company infrastructures and networks.
IT security teams have their work cut out to ensure that the huge proportion of staff now working remotely are able to do so effectively, but without putting the organisation at risk from bad actors.
Like many sectors of the population, this increased workload, responsibility and weight of expectation puts them under huge pressure and increases the risk of mental health problems.
Here we look at some of the technical considerations that it's easy to neglect. Addressing them can make a significant difference and, because they can be controlled and managed, provide security pros with the all-important reassurance that they are doing their job effectively. We also outline organisational and personal activities that will help to alleviate stress as far as is possible.
Content Continues Below

Download this free guide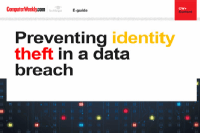 Preventing identity theft in a data breach
In this e-guide, we will explore the links between ransomware attacks, data breaches and identity theft. First, Nicholas Fearn investigates the phenomenon of the double extortion attack, and shares some insider advice on how to stop them, while we'll explore the top five ways data backups can protect against ransomware in the first place.